Team Building & Corporate Events
Team building & Corporate Events
Most of us would agree that good teams are a major part of any successful company.
Here at Coeur de Xocolat, we've seen some of the advantages that good team building events can bring. Lots organisations already know that it can prove to give a boost to the long-term success of a company.
We love how cooking and eating together builds bonds between people. And people love chocolate. So, it seemed natural to bring them together in a hands-on dessert cooking event for your team featuring chocolate.
David is regularly asked to speak at events up and down the country. David says "I regularly attend lots of events, Chocolate devotees don't need any persuading that chocolate tasting is fun, but I believe that Coeur de Xocolat offers a gentler and more sophisticated team building activity than paint balling or physical outdoor challenges".
Delegates learn about chocolate, work together to make and enjoy a number of chocolate and other sweet delights. Then pack up their rewards to take home or back to the office—if they get that far. When you talk about incentives, it's hard to go past desserts and chocolate.
We can do anything from a 30-minute ice breaker, a 4-hour sit-down to a three-day chocolate safari. If you have an idea that isn't on the list, please contact us with your ideas.
Xocolat Factory Challenge

is a series of chocolate team building events that were originally created for a major food client and has since been used by many organizations including Danone, Myra showers, to build morale among co-workers, increase communication and innovation, and strengthen working relationships. This is a super fun way to energise a sales conference or retreat, or to simply reward your team for a job well done. The benefits in productivity will last long after the last chocolate has vanished!
Our Xocolat Factory challenge has teams working together or competing to design, manufacture, create and market their own brand of chocolate, all this along with a variety of chocolate workshops, presentations and demos. Presentations might include; the history and origin of chocolate, how it's made, how to professionally taste it. We always use Fair trade chocolate at our events. We are passionate, not only about good chocolate, but about treating the people who make it well. We love to tell stories about how Fair trade is making a difference to the people who produce our chocolate.
All these chocolate team building activities are highly customisable.
Your team's chocolate event might include tasty morsels like:

Taste Chocolate like a pro
You've got chocolate and you've got a mouth, but our chocolatier will slow you down and guide you through a sensory analysis were you will LOOK LISTEN TOUCH SMELL and final TASTE your different chocolate sample making you a chocolate sommelier.
Chocolate Bingo
Everyone is given a Bingo card with chocolate experiences such as "has eaten the ears off a chocolate bunny first" and "has eaten cereal with chocolate milk" on a grid. Find others who fit these descriptions, and get Bingo before your co-workers do! This is a perfect ice breaker to get people mingling and most importantly, meeting co-workers.
CSI Chocolate
It's time to treat your sweet tooth and test your taste buds with our unique CSI "Chocolate Taste Test" competition. Each group gets to taste ten different types of familiar childhood favourites – can you guess what they are without looking at them? Whose taste buds will reign supreme?
That's not all. In our "Chocolate Sight Investigation" (CSI) we've dissected chocolate bars. Can you correctly sleuth out what kind it is?
Towering Chocolate
You've got chocolate and you've got the brains, creativity and project management skills… now it's time to put your skills to the test and see how high you can build a freestanding chocolate tower using only kit-kats
Sniff cocoa like a rock star
Willy Wonka would turn in his grave this activity is designed to illustrate the importance of smell in tasting food. This activity was first used at a rolling stones birthday party
Chocolate speed dating
In this activity you will taste 4 different origin chocolate and try to pair them with fruit and spice to create a new combination for the team to present.
David is a award winning chocolatier masterchef in the craft guild of chefs, he has worked in hotels and for number of large food manufacturers "Having a life-long interest in fine food and especially chocolate, setting up the business enabled me to combine my passion for chocolate with my passion for business". David worked for the Fair trade brand Divine chocolate for 10 years.
Says David: "After all, chocolate is more complex than wine, so I believe it demands our full attention".
Download a flyer for more info here.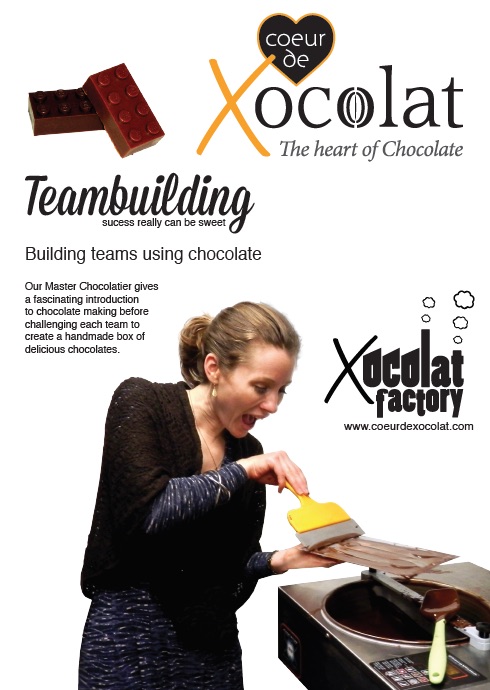 hashAddressBar: false});