Amsterdam chocolate safari®
When I lead a chocolate safari® I always try to find a chocolate museum to visit I cover history of chocolate but a local slant is always good and gives my clients a chance to learn visually too.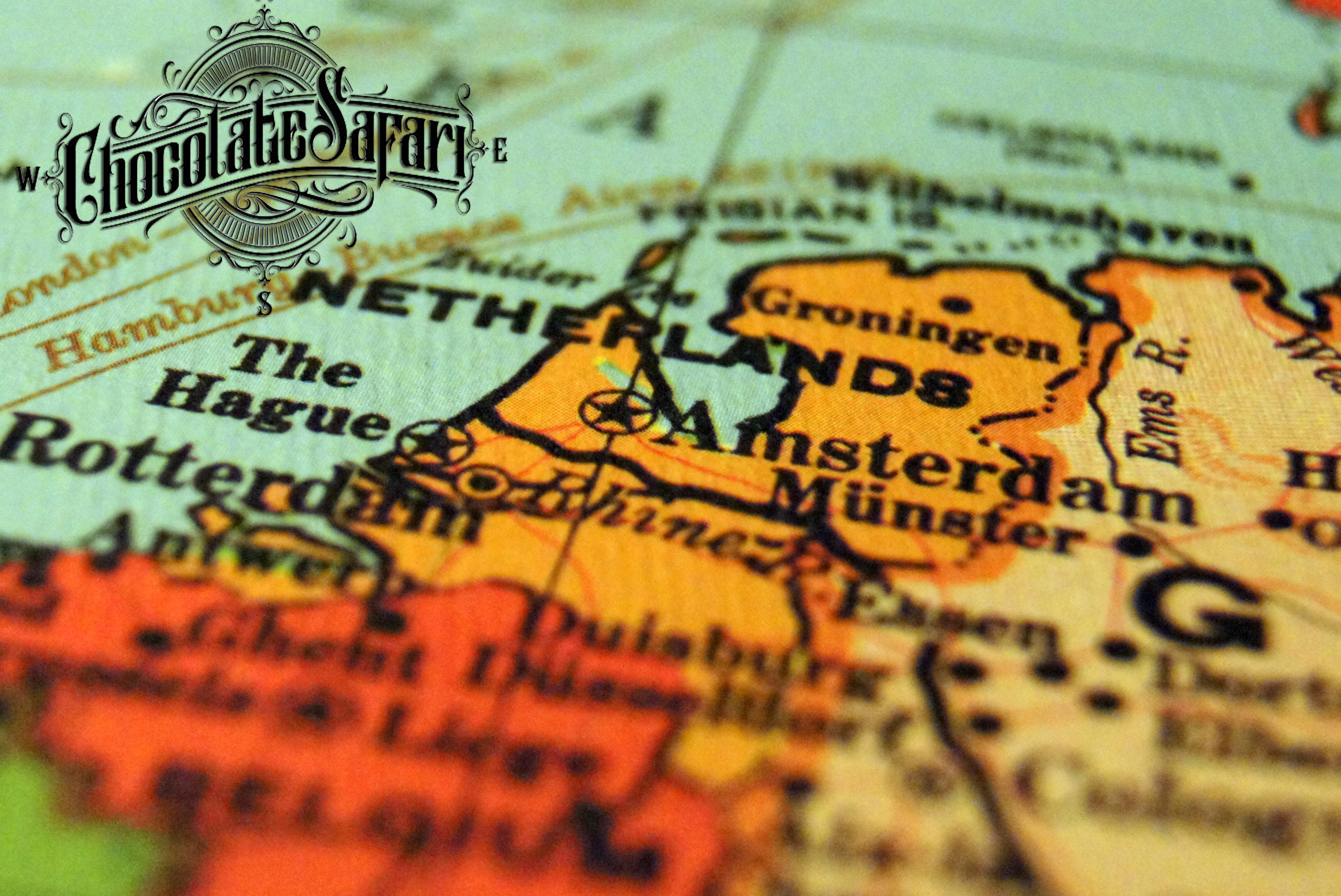 History of chocolate in Amsterdam
The Olmec's were the first to come up with that genius idea to grind cocoa beans with water and different herbs and spices.
It was made it into a bitter drink they named xoco-atl (meaning 'bitter water'). That would make you braver, stronger, smarter and better in bed.
When the Spaniards brought it to Europe, it didn't take long before the bitter cocoa drink conquered the whole continent including the Netherlands.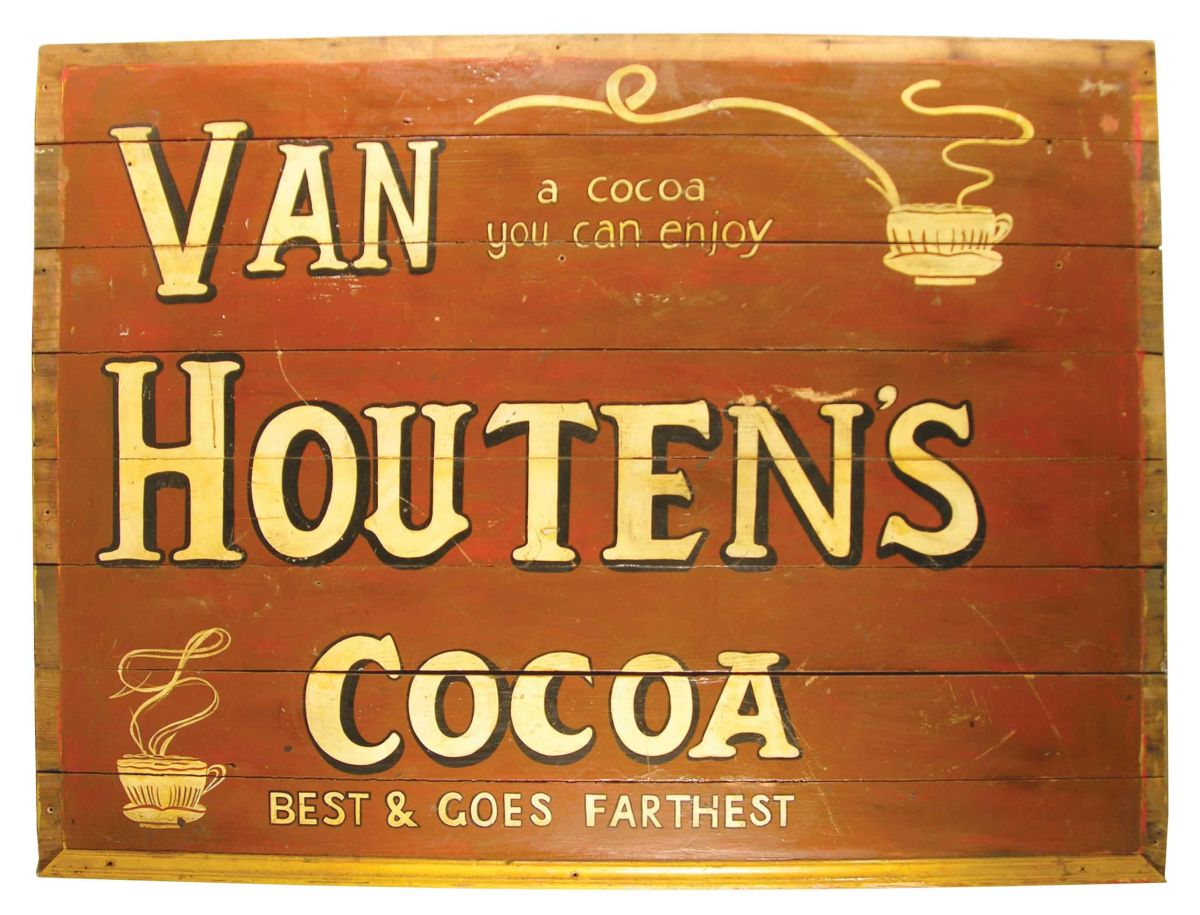 The Dutch soon started to grow their own beans on their own plantations in the Dutch colony of Surinam (South-America). Once harvested, the beans were loaded onto ships and taken to Holland to be ground into a paste and formed into small, dark bitter tablets. Dissolved in hot milk or hot water, its taste was very different from the chocolate milk we know today, but flavoured with anise, nutmeg, cinnamon, amber and vanilla, honey or sugar, it certainly had a beautiful taste.
the name all Duch people associate with chocolate is Van Houten. C.J. Van Houten (1828) revolutionised chocolate making by inventing a technique "Dutch process chocolate". He is also credited with introducing a method for pressing the fat (cocoa butter) from roasted cocoa beans, though this was in fact his father, Casparus van Houten's invention. both these gave a drink that was easier to digest and more tasty, while also making it possible to produce cocoa powder and chocolate bars we all know and love today.
Amsterdam chocolate factory
Korff was one of the first companies to make chocolate, starting in 1811 grinding beans using a windmill located on Spaarndammerdijk.
Eventually the chocolate factories of Korff were sold to Cargill in 1986
Most of Europes cocoa comes into Hollands ports before being moved to the chocolate makers of Europe, but Amsterdams Chocolate makers have been and are still in my opinion unfairly underrated, in favour of nearby chocolate neighbours, Brussels, Bruges and Paris.
But tucked away in some these old canal side trading houses you will find some of the continents best chocolatiers.

Every spring there is a chocolate festival, Chocoa, attended by grower makers and lovers of chocolate and the Cacaomuseum,
Amsterdam is destined to become the next melting centre for chocolate lovers. But the proof is in the truffles :
Try some of these makers and shops to begin with.
Puccini Bomboni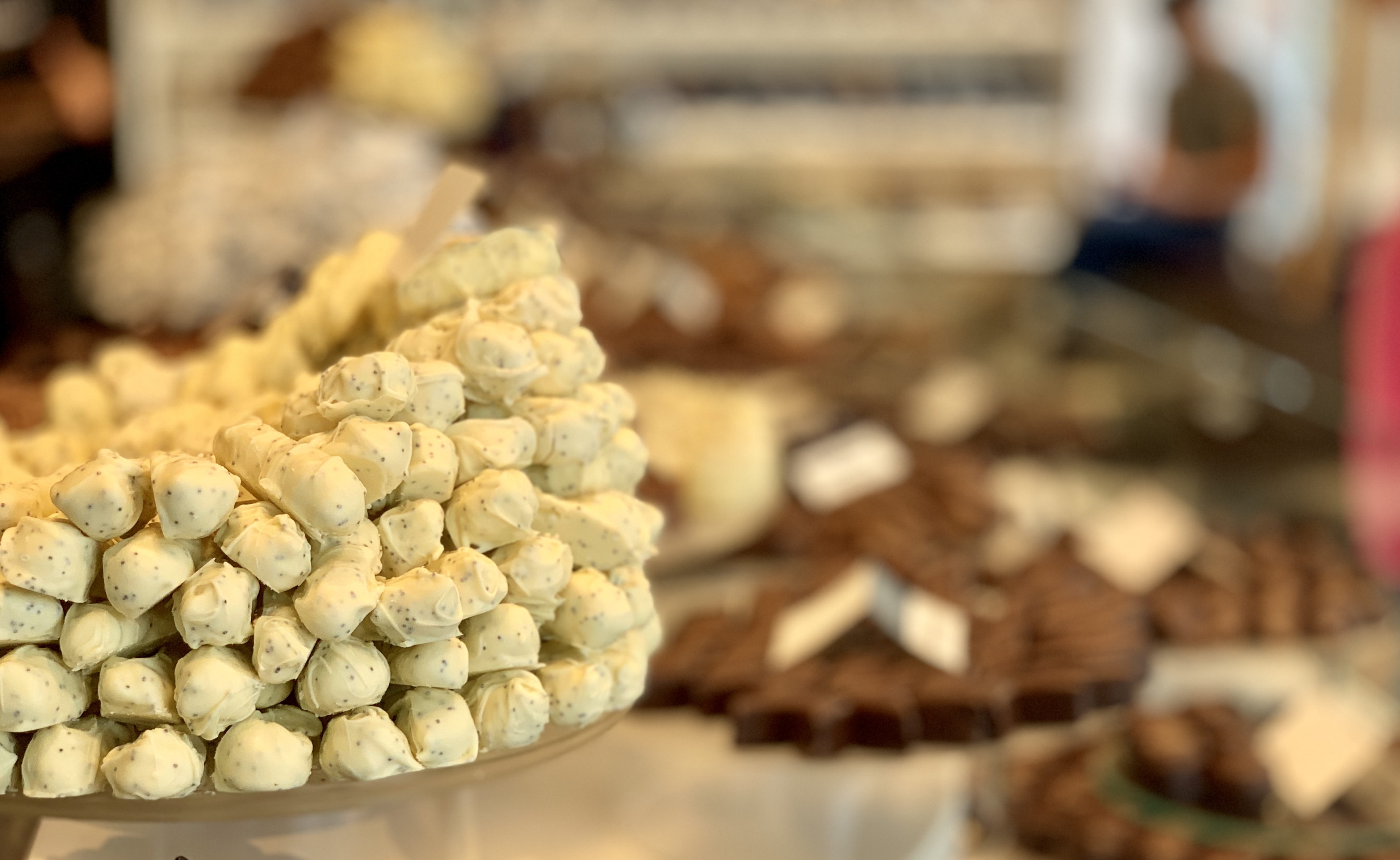 ADDRESS: Singel 184, 1016 AA Amsterdam, Netherlands
PHONE +31 20 427 8341
Puccini Bomboni is one of Amsterdam's most celebrated chocolate shops and a great place to start a chocolate safari in the Dutch capital.
Puccini Bomboni's trademark large bonbons are seasoned with flavours from spirits, liqueurs to fruit, nuts, and Asian spices.
Cream and pure, milk, white, or dark chocolate are the main ingredients along with additions like figs, ginger, cognac, coffee, cranberry, pecans, and Cointreau,
Shape and appearance count, too, and every type has its own signature look.
Ganache Amsterdam
ADDRESS: Oudekerksplein 17, 1012 GX Amsterdam
If you're looking for an "explosion of flavour" then Ganache in the heart of Amsterdam would be a prime choice.
Their USPis that they use edible flowers as an ingredient, and they make sure their chocolates are bite-size so that you can experience those flavours in one go with a burst.
Their Flower Power truffles use real fruits, flowers and the finest of spices. The Duindoorn Korenbloem (Seabuckthorn Cornflower) will leave your palate with a memorable first impression.
Their store makes for an atmospheric chocolate-tasting location.
ADDRESS: Warmoesstraat 135
The Warmoesstraat, the street leading up to the red light district in Amsterdam has seen some new surprisingly delicious deli shops arriving in the last few years.
Metropolitan Chocolate is one of them. The owner, chocolate specialist Kees Raat, uses weird ingredients such as pepper in its chocolate creations. Chocospoons
The menu (breakfast, lunch, brunch and of course take away) furthermore lists bonbons based on different cities, named Metropolitan Chocolates as well as experimental foods:
chocolate bacon, brownie sandwich, chocospoons
Metropolitan wants to make all of their bonbons on the spot and also offers Italian ice cream with classical as well as more experimental flavours.
ADDRESS: Koninginneweg 141, 1075 CM Amsterdam, Netherlands
PHONE +31 20 470 9805
ArtiChoc is all about purity and avoids sugar as much as possible. That's quite an accomplishment for a chocolate-maker.
ArtiChoc takes the diversity of flavours to the next level, with bonbons such as a caramel-pine nut, pimiento, honey-whiskey, marsala, and basil.
Seasonal specialties, like chocolate "chestnuts,", "acorns," "mushrooms," and "pumpkins" for fall, keep the assortment timely.
Pompadour Chocolaterie and Tearoom
ADDRESS: Huidenstraat 12, 1016 ES Amsterdam, Netherlands
PHONE: +31 20 623 9554
Pompadour is hailed for both its chocolates and pastries, the latter of which are served—in addition to breakfast and lunch—in an authentic Louis XVI tearoom, with interior flourishes imported from Antwerp, Belgium.
people with a sweet tooth can relax with a tea and pastry and then take some chocolate for the road. the couveture Pompadour use is Valrhona the chefs favourite.
ADDRESS: Rozengracht 200, 1016 NK Amsterdam

Huidenstraat 30, 1016 ET Amsterdam
Founded in 2013, and led by chocolatier Hans Mekking Urban Cocoa houses a 400m2 workshop where the chocolate they sell is produced.
Visitors can peek in to see how they make magic. their stores have an impressive selection of chocolate from practically every corner of the planet ranging from lower percentages of milk to a variety of higher-percentage dark chocolate.
They also make bonbons, with interesting flavours including Strawberry and Basil, Earl Grey and Bergamont, and Champagne.
ADDRESS: Nieuwe Spiegelstraat 72, 1017 DH Amsterdam, Netherlands
PHONE: +31
Vanroselen's chocolates are handmade and mix the flavor of cocoa with herbs and fruit for subtle chocolate taste treats. Vanroselen also sells top-quality brands of chocolate made in small batches from all over the world, so this is your chance to sample these hard-to-find pieces of heaven.

ADDRESS: 175, Czaar Peterstraat, 1018 PK Amsterdam, Netherlands
PHONE: +31 6 12797707
The Cacaomuseum takes you through everything you ever wanted to know about chocolate, and, of course, it has a shop.
You can choose from 100 different kinds of chocolate bars from all over the world, along with such unusual items as chocolate cheese, cacao sausages, and chocolate vinegar.
The museum sculptures and even paintings made of chocolate.