chocolate and beer valentine menu
Nothing says "I love you" like a box of chocolate, a bottle of wine, and a dozen roses—except that's how everybody does it.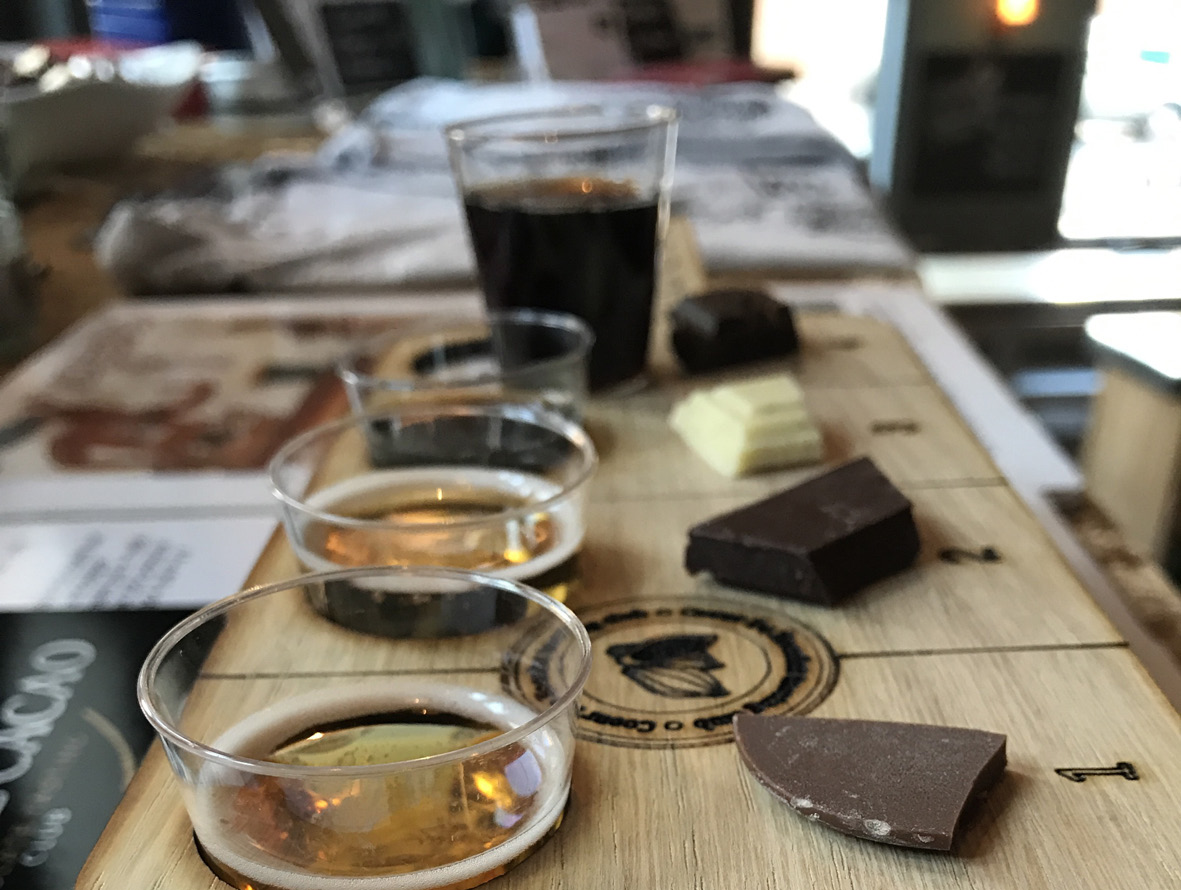 The rules have changed. Why not spoil your loved one with a gift as special as they are: a really, really good beer-based meal for two?
There aren't many things that are as evocative as chocolate. It has been linked with giving us strength, intelligence and health to imbuing us with aphrodisiac powers a true elixir from the indies.
Now, some of this may be legend, that's for you to decide, but it's this very power of suggestion that has elevated chocolate to this lofty status throughout history and no one can deny the mood-altering ability that chocolate possesses.
If we look back to Mesoamerican history, chocolate was a gift from the gods, offering to gods and something reserved only for the military and ruling classes. This is similar to the role that beer played throughout Europe during the Middle Ages.
While chocolate and beer may seem to be in different camps, they do have complementary flavours.
Beer takes its flavour from three things: grain, hops and yeast and when kilned malted grain can have notes of honey bread caramel toffee raisin and many others. Chocolate has up to 1500 aromas some of which are described as grassy, floral, yeast, nuts, caramel, woody, spicy and fruity, so it shouldn't be so surprising that they pair well.
Heres is my easy but impresive three course menu
Chocolate Safari bread
Preparation time: less than 30 mins
Cooking time: 30 mins to 1 hour
Serves: Makes 1 loaf
The imperial Stout adds colour and a bitter note to this wholemeal soda bread recipe. Serve with a salted herb butter
Ingredients
200g Plain flour and a little extra for dusting
2 tsp bicarb
1 tsp salt
550g whole meal flour
2 tbsp dark brown sugar
300ml imperial stout
220ml almond milk
Method
Preheat the oven to 230C and grease a 900g/2lb loaf tin with veg oil.
Add the plain flour, bicarb and salt to a large bowl. Stir through the wholemeal flour and sugar.
Pour in the stout and milk. Mix well to form a wet dough.
Tip the dough onto a floured work surface. Roll and fold the mixture gently until it forms a sausage, roughly the size of the tin.
Put the dough into the prepared tin and, with wet hands, pat down and smooth. Rest for 10 minutes.
Bake for 10 minutes, turn the oven temperature to 180C Bake until golden and the base sounds hollow when tapped.
leave in the tin to cool for five minutes and then turn out onto a cooling rack. Cool fully before slicing.
Stoofvlees (Beef, and Chocolate Stew)
Chocolate truffles made with imperial stout with a dusting of cocoa powder, is a recipe that is quick and easy to make at home.