Tips for buying and bringing chocolate home
I often lead chocolate safari® to Sao tome, Haiti, Dubai Bruges, France and London and a question I am always asked by my clients is how to get the chocolate back home in perfect condition from places that are very warm or very cold.?
Buying chocolates
Well when you are buying expensive artesian chocolates make sure it starts out being as good as it possibly can, look for shops where the staff wear gloves it sounds petty, It's not about germs, it's more about fingerprints
The bon bons/chocolates should have a smooth surface, no filling leaking out, cracks and air bubbles.
Look for moulded chocolates with a gloss to them.(enrobed will have a matt finish) chocolate bars that have been well-tempered will have a good snap when you break into them. (you will have sampled them first)
Some cheaper chocolates are sold by the kilo but bars and fine bonbons are often priced individually.

You can splash out on an entire box, but you could also ask for a sachet (a clear plastic bag) if you'd like less or you want a random number like 14 bon bons that wouldn't fit inside of a standard square box.
If it's for a present ask the assistant to gift wrap them. and consider adding a copy of my tasting journal
How to get them home
Keep your chocolate in your carry-on bag if you can. Chocolate is best when kept at an ambient temperature without too much fluctuation and the cargo hold often gets cold or even freezing.
If you're headed to or from somewhere warm, they could sit out on the tarmac for a while too.
Keep the chocolates in the original packaging, if you can. A good chocolatier will provide a cushion to protect the chocolates. I always pack a cool bag specifically for chocolate purchases.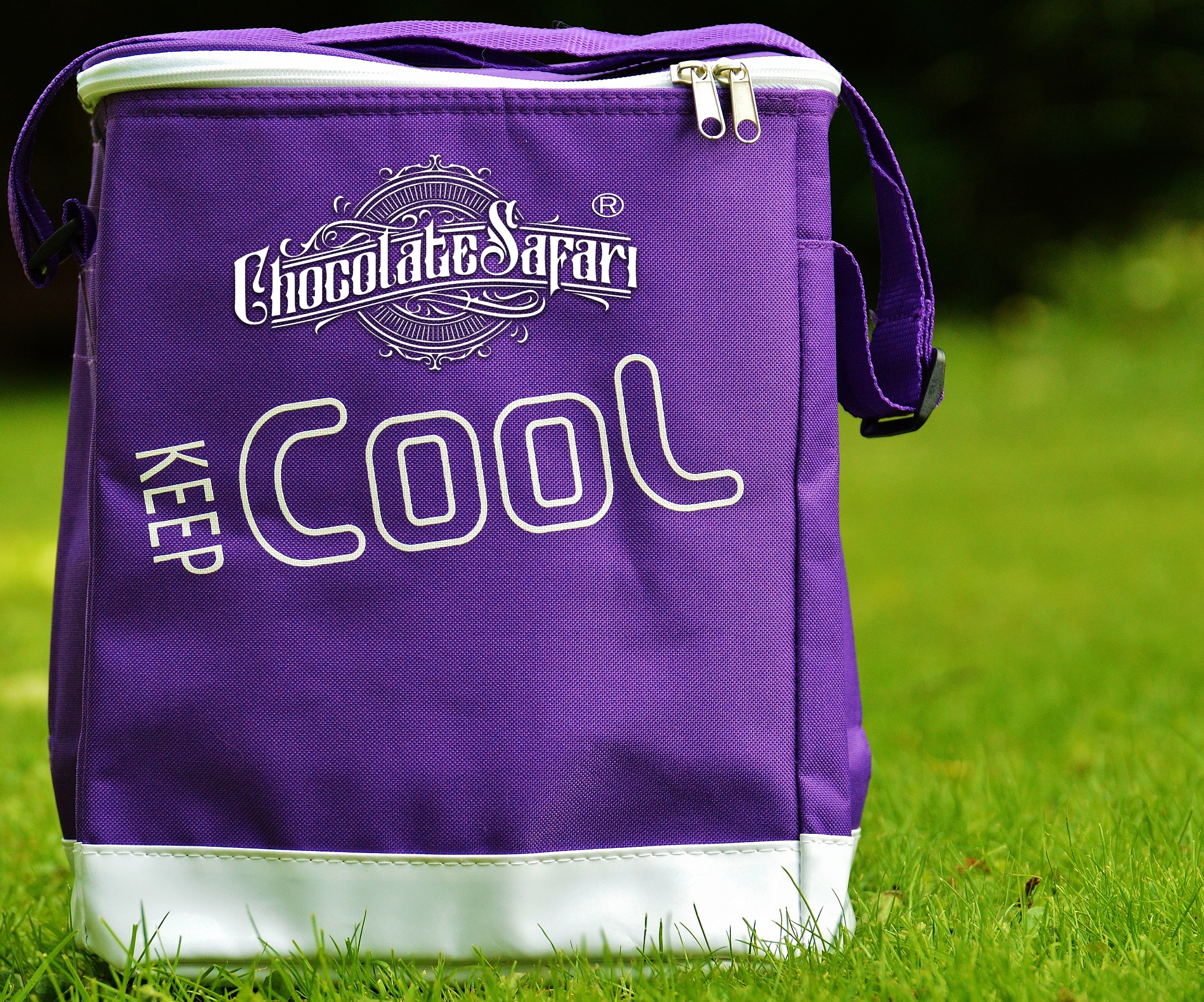 How to get them home
The very best chocolates should be eaten as soon as possible after purchase, remember to ask the sales assistant the shelf life before you buy.
Chocolate bars will always last longer than bonbons and other filled chocolates.
As a rough guide you can keep most bars for up to a year but check at each chocolate shop as the specifications will vary.
If you have the self-control to store your teasure, you'll need to keep it in a cool, dry, and preferably dark location; a pantry or wine cellar is ideal.
Storing chocolate in the fridge:
If melting is a concern, the fridge isn't the best place to store your chocolate, humidity is bad for the chocolate and the fluctuation in temperature can cause chocolate to 'bloom' (for the fat to rise to the surface) which causes the bar to look grey or white or become oily. It's safe to eat, but it doesn't look nice so its a last resort!.
Also chocolate absorbs odours easily you need to be careful where you place it – never next to your onions or garlic its always best to use a Ziploc bag.
As a last resort you can freeze your chocolate for up to 2-3 months as long as you enclose the entire package in a freezer safe Ziploc bag, but expect a slight decline in quality.
Don't forget to remove your sweets with plenty of time to come to room temperature before serving enjoy exploring.