Clients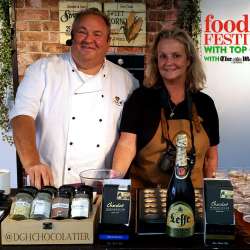 Chocolate Demonstrations
Demonstrations are a fantastic way to create value you for your attendees and always prove extremely popular with most sessions selling out.
David regularly demonstrates at exhibitions and food festivals such as Salon Du Chocolat, The Speciality Chocolate Show,
Foodies Festivals, Hans Slone Chocolate Festival, the Ramsbottom Chocolate Festival, Bakewell Festival of Baking, Ludlow Food Festival, Liverpool Food Festival – to name but a few.
David's repertoire sees him not only demonstrate making delicious chocolate treats such as his signature goats cheese truffles or crab and white chocolate risotto, but also showcasing his wealth of fascinating information about chocolate and its history.
Keep your eye out for David's Chocolate Sniffing Machine; it's definitely an experience to tell your friends about!
Conferences and teambuilding
Educational, yet entertaining, a great team event.
David has led sessions for Mira showers, Danone, the Church of England, Children's Advisors Conference, The Methodist Church Conference, CBDO and Greenbelt Music and Arts Festival.
across the UK and internationally in Sao tome, Dubai, Ireland and France among other places.
David is at ease with audiences from a dozen or so up to a few thousand.
Pairing chocolate with beer or wine, and chocolate tasting experiences, or cookery demonstrations.
A session from David could be a welcome texture break on a heavy day of business or can set just the right note for the end of the day.
A creative team building activity with a chocolate twist, the Xocolat factory Challenge is a brilliant way to bond a group.
Individuals or teams will see if they have what it takes to become a real chocolatier! Under expert guidance, they will learn how to create a box of handmade chocolates and their very own chocolate bar which they will package. There are special techniques to be mastered and new skills to be learned in a fun, relaxed environment.
Xocolat factory Challenge can be adapted to suit differently sized groups.
Participants can work as individuals or as part of a team depending on group size.
It's a great way to get small and intimate teams to think creatively. Alternatively, you can split a large group into separate teams and introduce a competitive element!
Team Building Benefits:
Xocolat factory Challenge is a brilliant way to bond a new team or strengthen the working relationships in an existing one. It's also an excellent way of managing change as it teaches new skills in an unfamiliar environment. Furthermore, it works equally well as a team work challenge and as a reward.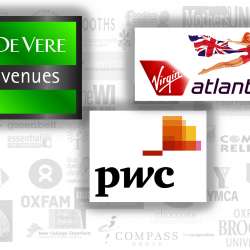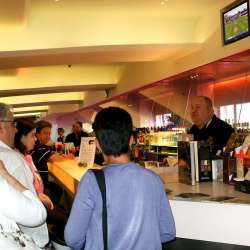 Corporate Events
David has wide experience working with big corporate clients providing engaging talks and demonstrations for team building, staff motivational sessions and customer experiences.
David partnered with the renown D&D Group at the Design Museum in London to facilitate an Evening of Chocolate & Wine. David was working with Court of Master Sommelier Award-winner, Nicolas Clerc, and the kitchen team at design museum.
The resulting evening was a memorable and intoxicating mix of fine wine and chocolate, in an idyllic venue overlooking the river Thames.
David has worked with clients such as Virgin Atlantic, Danone and PWC.
Educational
Whether you're at school, college or university you'll agree that learning is much more fun when you're learning with chocolate.
David tells the fascinating story of chocolate's rich history through all the geographical, historic, ethical and economic aspects.
He also draws on his own experiences to illustrate the incredible production process of chocolate from 'bean to bar'.
David has many stories of chocolate growers and workers he has met and got to know on the plantations giving him a first-hand understanding of the issues of trade justice and the benefits of Fairtrade.
Students can also enjoy the chance to get their hands sticky with melted chocolate in a hands-on chocolate making session.
David has worked with schools, colleges and universities throughout the UK for over 15 years now.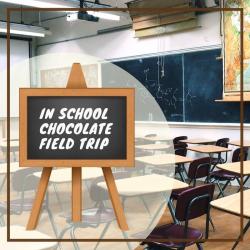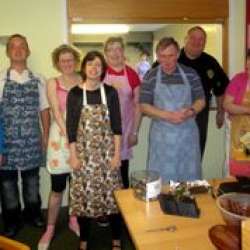 Local Groups
David loves spending time in more intimate group setting such as the WI, the Rotary local charities and Mothers Union.
He might take a full evening or play a part in an existing programme, with talks and demonstrations.
One thing is for sure, David (and his chocolate!) are not quickly forgotten. David has run workshops for groups as diverse as a group of adults with special needs (pictured here) and a Gothic Womens' Institute.
Media Appearances
With many media appearances on national and regional TV and radio, David is now a recognised expert in his field and can engage his audience with fascinating facts about chocolate as well as giving practical, easy-to-follow chocolate demonstrations.
Kat Orman from BBC Oxford: 'thank you for the interview with David today, brilliant guest and what a lucky man to have that job.'
Charlene Guy from BFBS, 'as a HUGE chocoholic I was already really envious of David's job and then to get to talk to him all about it was fascinating, thank you for giving us that opportunity.'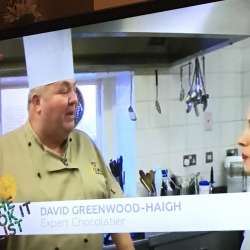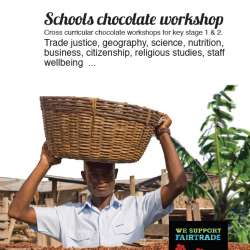 School Visits
Just wanted to send a quick email to thank you for coming to our school yesterday.
All of the children really enjoyed your talks & the chocolate making, and it hit several of the national curriculum areas perfectly!
Feedback I've received is overwhelmingly positive as children haven't stopped talking about it since!
It's given them a great real-life experience to apply to their work, and we're hoping to really build on that in the next few days across the curriculum.
Many thanks
Marcus' Teacher – Years 3 & 4
Sunderland University Testimonial
'David is one of the subject matter experts we regularly use on the course, the students had a fantastic chocolatey day when He returned for the second year to talk to our BA (Hons) undergraduate international hospitality, tourism and events students who are studying gastronomy in their final year.
He managed to fit so much into the day including a history of chocolate and coffee, a coffee and chocolate tasting masterclass and a chocolate and coffee pairing session.
The whole day was incredibly informative, and David's passion and enthusiasm is infectious; he really had all the students engaged from the outset, but then again it doesn't feel like learning when it's covered in chocolate!
Sharon Olver
Lecturer Department of Business and Law
University of Sunderland'