Mole is probably one of the most iconic savoury dishes that includes chocolate.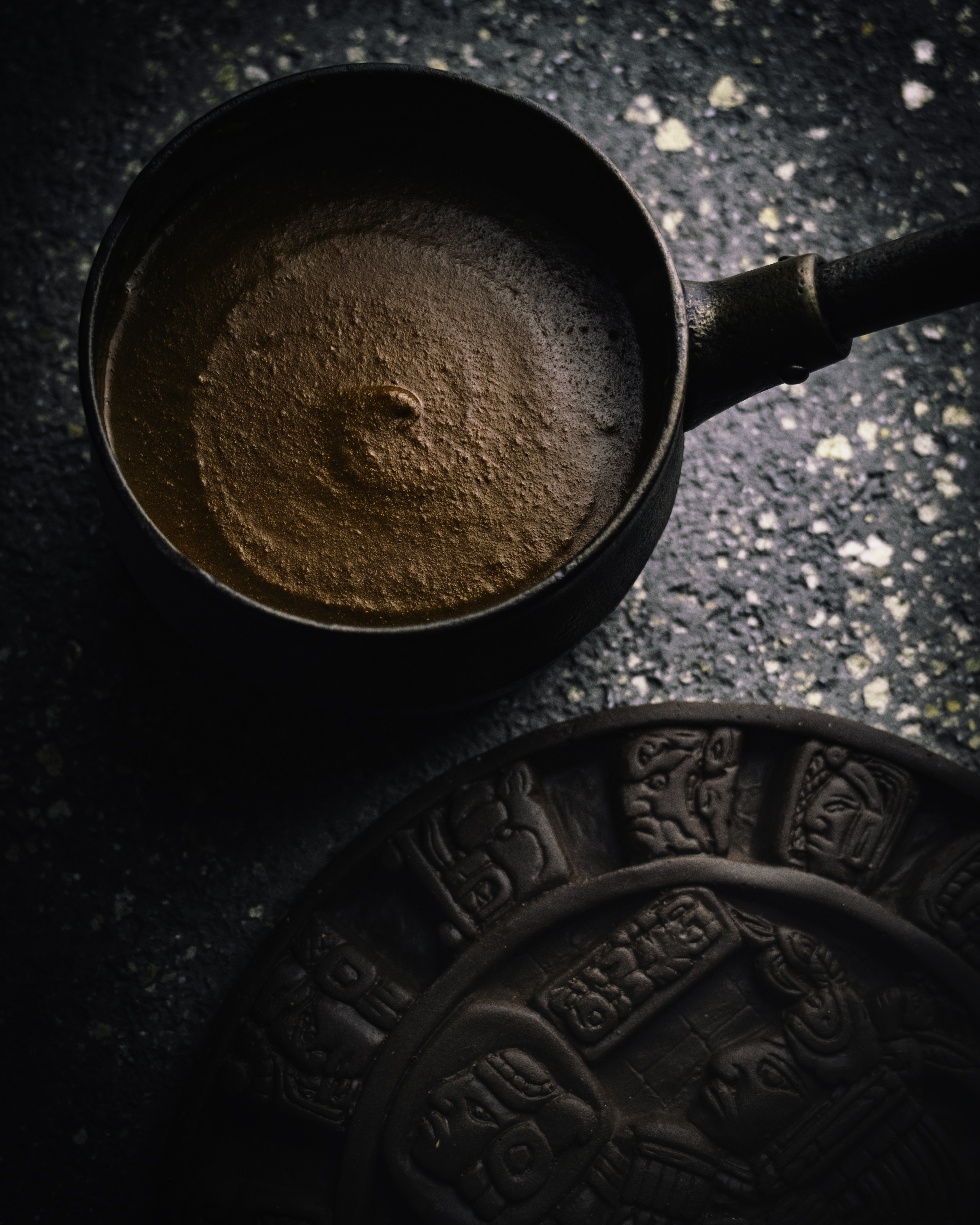 I was inspired by my photographer friend Paul Robinson aka @yorkshiregourmet who used some of the chocolate I made using São Tomé beans. I made a mould with the same beans ans cast the Myan calendar he then did his magic and created this amazing picture for one of his projects, but me being me I needed to look a little deeper.
The word "mole" (MOH-lay) comes from the Nahuatl "mulli," which translates as stew or sauce. It's considered to be Mexico's national dish.
According to legend, chocolate's first use in a savoury non-drink dish happened in the kitchens of the Santa Rosa Convent in Puebla de Los Angeles, Mexico.
The bishop instructed the nuns of the convent to create a special dish for the visiting Viceroy of New Spain.
Some say that in response Sister Andrea found divine inspiration during mass that prompted her to include Xocoatl (chocolate), mulatto, pasilla, ancho, chipotle, onion, garlic and tomato, as well as almonds, sesame, peanuts, and more than hundred ingredients of the finest quality, before blending together into this heavenly food.
Others say an errant breeze blew the seasoning into the bowl. (I prefer the latter)
We know the word is pre-Hispanic, however the moles that we eat today are the result of hundreds of royal chefs and home cooks modifying regional ingredients mixing both new and old techniques, so it shouldn't be a surprise to discover that the recipe varies from region to region and chef to chef.
Many moles are named after the region in which they originated, the colour it creates, such as cacahuates (the colour of peanuts) or pipián (ground pumpkin seeds), or for the ingredients they contain, such as mole de iguana (yes, real iguana) or mole de hongos (mushrooms).
Most start as a paste of dried chilies, seeds, nuts, and spices, thickened with a starch—masa, tortillas, or bread.
The sauce can be eaten on its own with tortillas or as a sauce to accompany meat, fish, and/or vegetables.
Preparing a mole sauce from scratch needs some planning, and patience; you shouldn't ever rush a mole.
In my kitchen it's a two-day job but well worth the wait.
Remember sauces like this mature and taste better if left a few days or even frozen.
Follow this link for my version.