Teachers, already know, that many primary schools have chosen chocolate as part of their National Curriculum studies and children are learning about chocolate through the early years, usually 1-6.
As part of their studies children will learn about the history of chocolate and chocolate production from bean to bar, which covers subjects including citizenship, geography, history and science.
They may also study Roald Dahl and Charlie and the Chocolate Factory as part of an English programme.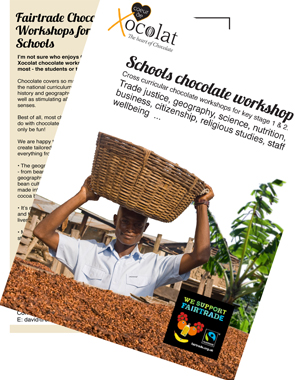 Chocolate in Secondary Schools too
In secondary school's students are studying chocolate in business studies, HSE, science and food technology. OrWhy running a chocolate event during their study period or for an end of year enrichment Week?
Coeur de Xocolat can run tailored chocolate making events, making the classes and lessons relevant and age appropriate. The sessions are run within the school timetable and accommodate breaks and lunchtimes and are made visually informative.
Who are Coeur de Xocolat?
At CDX we love everything chocolate from eating it, making it, cooking it and sometimes even sharing it.
I started my journey as a chef being so fascinated by chocolate I set out to learn everything I could about it. The more I learned the more I wanted to share everything id found out with anyone who would listen.
When we first started, chocolate making I was being asked by schools up and down the country if I could help them to deliver the curriculum using chocolate and my work with the fairtrade movement work,
scine then our activities have grown and developed in response to teachers, catering colleges and now universities wanting us to teach, share and help the students learn using chocolate.
Coeur De Xocolat has provided hundreds of engaging, fun and fact filled educational chocolate workshops all across the UK and further afield for over 16 years, with a whole range of chocolate knowledge that we have shaped this into a range of educational workshops where we join you in your classroom.
we have found that chocolate can provide a fantastic gateway to a fun learning experience. chocolate has a long and interesting history.
Today, chocolate provides a great way to look at history global trade, and issues of social justice, then there is the science of Chocolate with its polymorphic crystalline structure, and the tempering process that encourages this structure to form, giving fine quality chocolate the "snap".
Educational Chocolate Workshops Chocolate can help people of all ages really enjoy the learning process.
• Teaching across the curriculum
• Classroom interaction which is fun, and educationally valuable for pupils workshops can include
Whole school assembly – introducing fair trade and social justice.
The history & origins of chocolate – from the Aztecs to date and all in between
The Journey of a Cocoa Bean, How & where cocoa beans are grown –
How to taste chocolate like an expert - use our senses to understand chocolate better
Become a Chocolatier- Explore the tempering process and make a lollipop or bar
Download leaflet here