Ghana meet the producer chocolate safari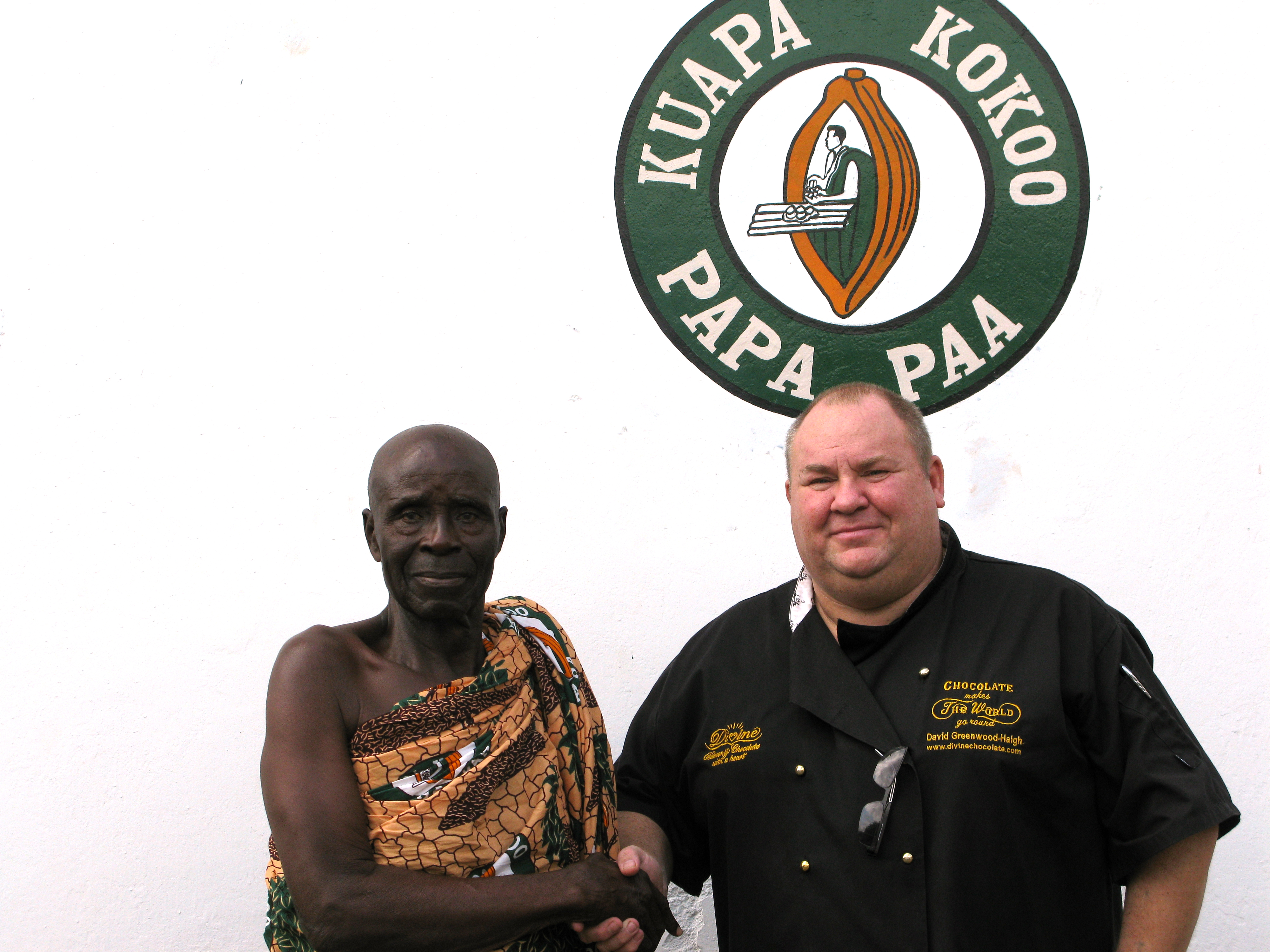 This is a travel blog of my first visit to Ghana to visit with Kuapa kokoo in Kumasi for Divine chocolate. We were a party of four including a journalist from the food trade press, a Fairtrade mark Ireland representative and our Irish distributor, all keen to find out what its like to grow cocoa and if Fairtrade really does make a difference?
Day one:
My flight was from Heathrow traveling via Amsterdam to Accra my Luggage allowance was 2 x 23kg 25 kg of which was chocolate to make sure that all the farmers
I met during this trip could actually taste the chocolate they grow the beans for allowing Divine to transform into award winning chocolate for the first time in some instances.
My airport breakfast was in café rouge T3 where I meet Beth from the Grocer magazine, quick introductions then rush through to check in, our cases, for me I had one case full of just chocolate, and then we went to passport control and on to the gate for the 10am flight to Amsterdam.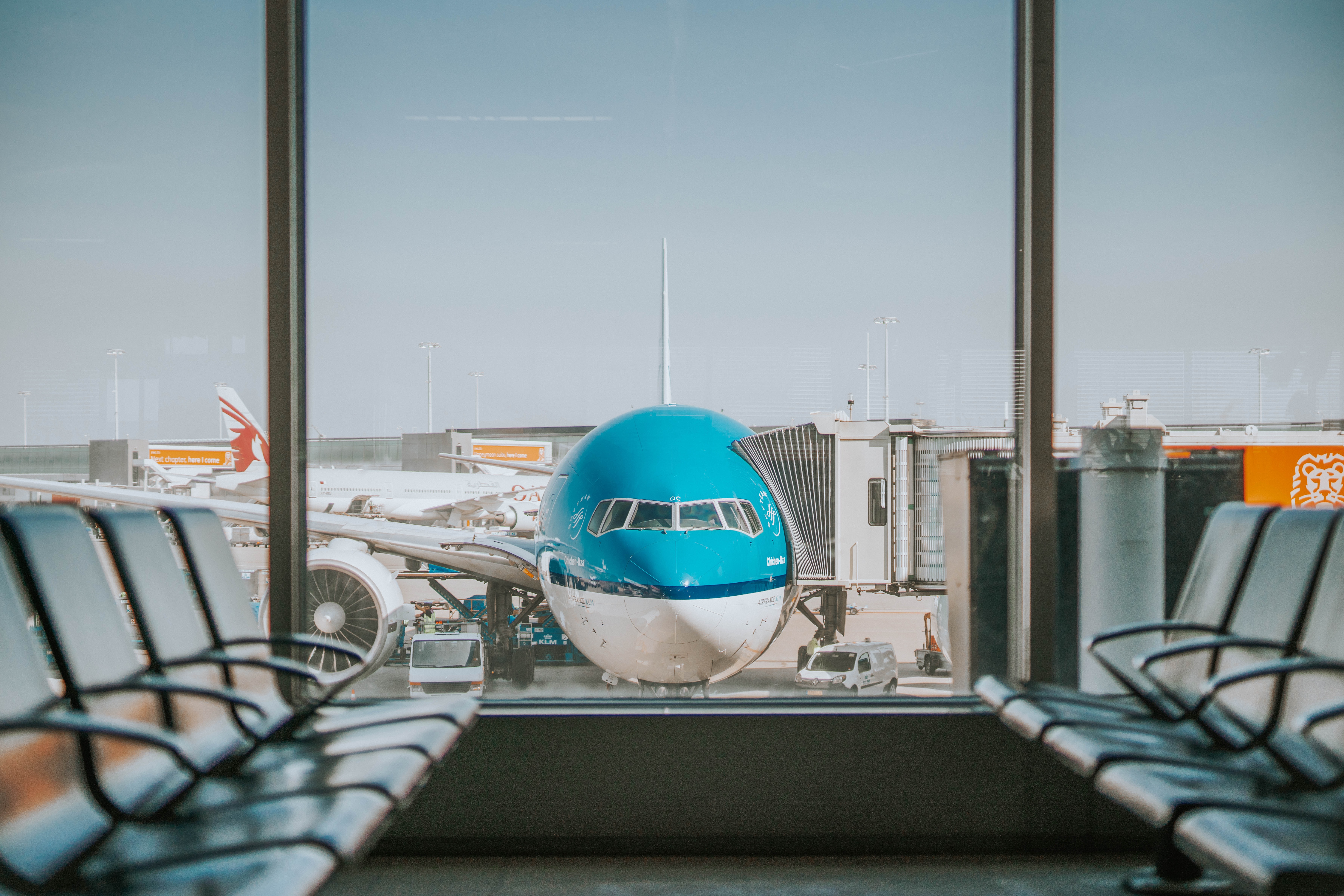 A packed KLM flight we had a short delay, so when we got to Amsterdam we only had to wait for about an hour.
As we arrived at the gate we found our other two travelling companions, Ger from Kinsale distribution and Melanie from Fairtrade mark Ireland both had just arrived in from Dublin after a few more hurried introductions and then the full body scan through security then off over the Sahara turbulence had the plane is bouncing about, but we were too all excited at the chance to visit Ghana the Kuapa Kooko cocoa farms to worry.
Melanie said she couldn't believe it, we were going to meet with actual cocoa farmers, to talk to their children in schools and to find out how Kuapa Kocoa works first hand.
Kuapa kokoo farmers own 44% of Divine chocolate so if Divine makes a profit then as share holders they receive a dividend and they are also a Fairtrade cooperative so receive a premium too.
Which means they get paid fair prices for their cocoa beans and for every tonne they harvest they get more money paid into their community to help them with their children's schooling and many other things.
Akwaaba Ghana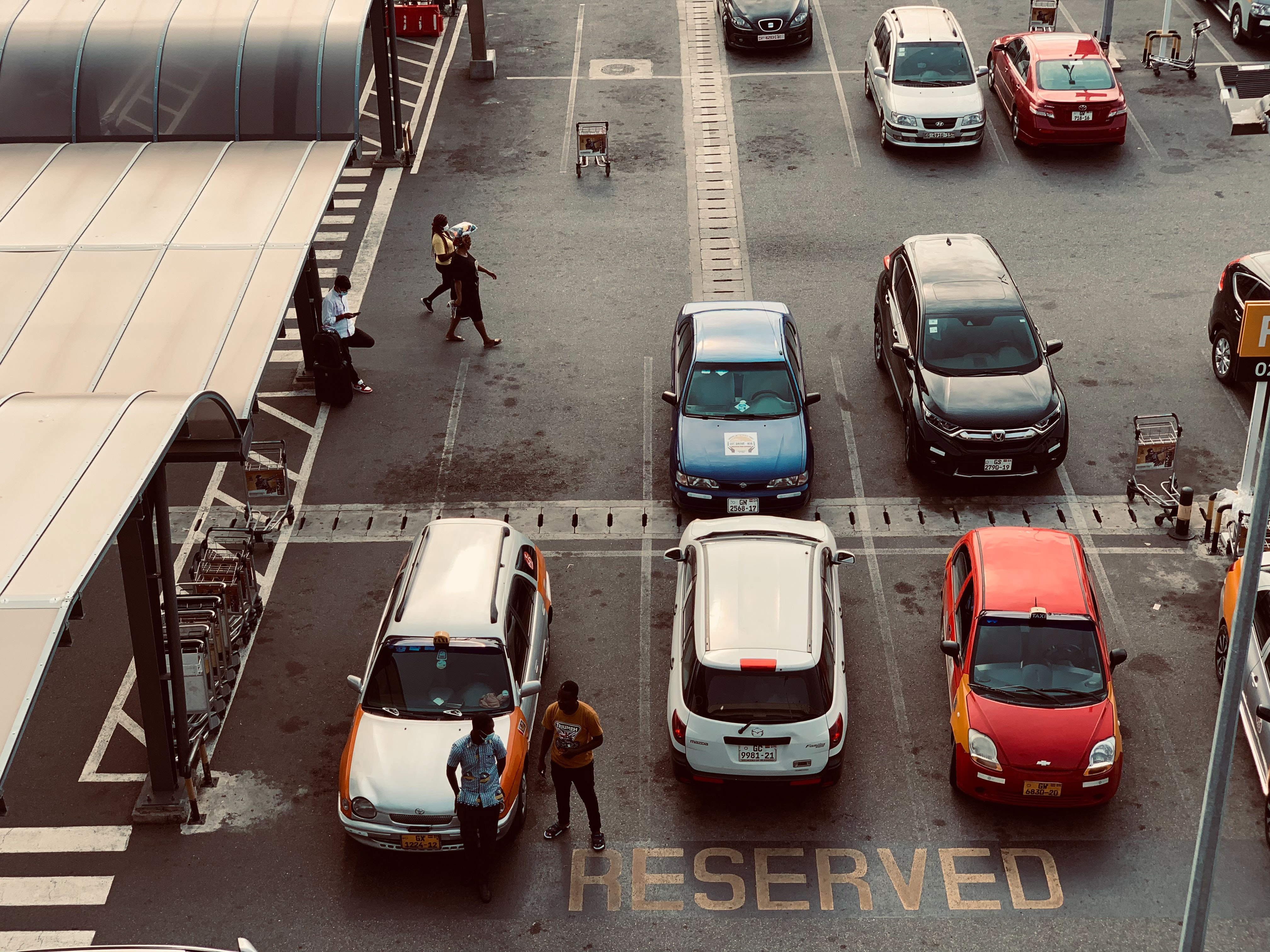 Arriving at Kotoka International Airport Accra we collected our cases, I had to use a little persuasion to convince customs that the case full of chocolate was all gifts.
Next we changed £ for Cedi the rate was about (2.4= £1) and headed out for the shuttle bus to the Shangre-La hotel.
The streets and roads were overflowing with people coming home from work in busses, taxis and tro-tros litrally translates as 3 pence the origional fare for one ride (anything that's not a bus or taxi) .
Traders balancing large bowls and baskets on their heads selling everything from food, water, tissues, spanner sets and mobile phone holders risking their lives weaving in and out amongst the traffic.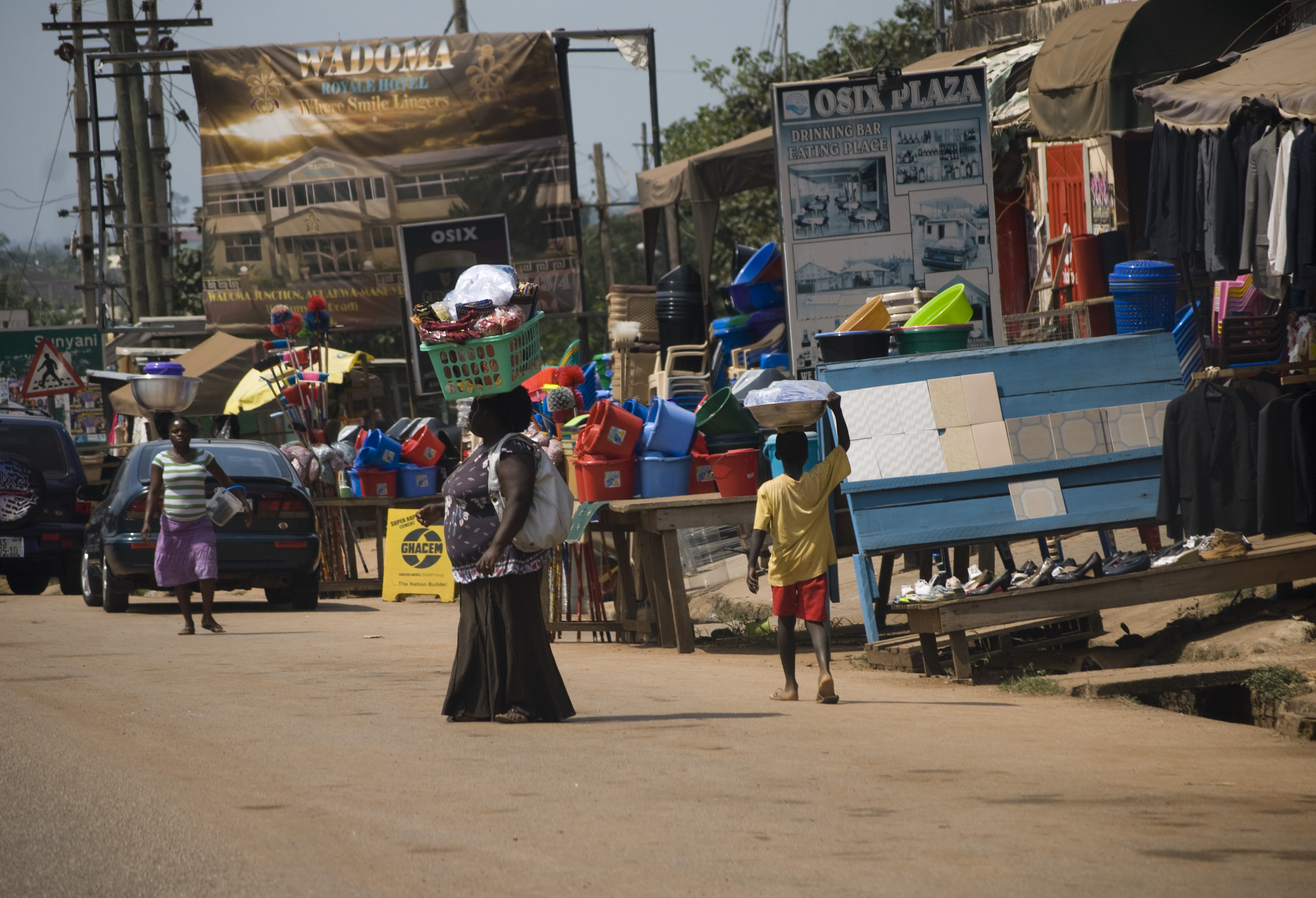 The hotel was only a ten-minute ride away; we all checked in, we had a quick wash and met in the bar for a drink and a chat about what we all expected from the trip we were too late to use the pool or get any hot food but it didnt matter crisp and nuts were the order of the day.
Day two:
Started at 5:30am in 21 °C heat with a mini bus trip through the middle of the Accra polo club and on to the domestic airport to take our next flight to Kumasi.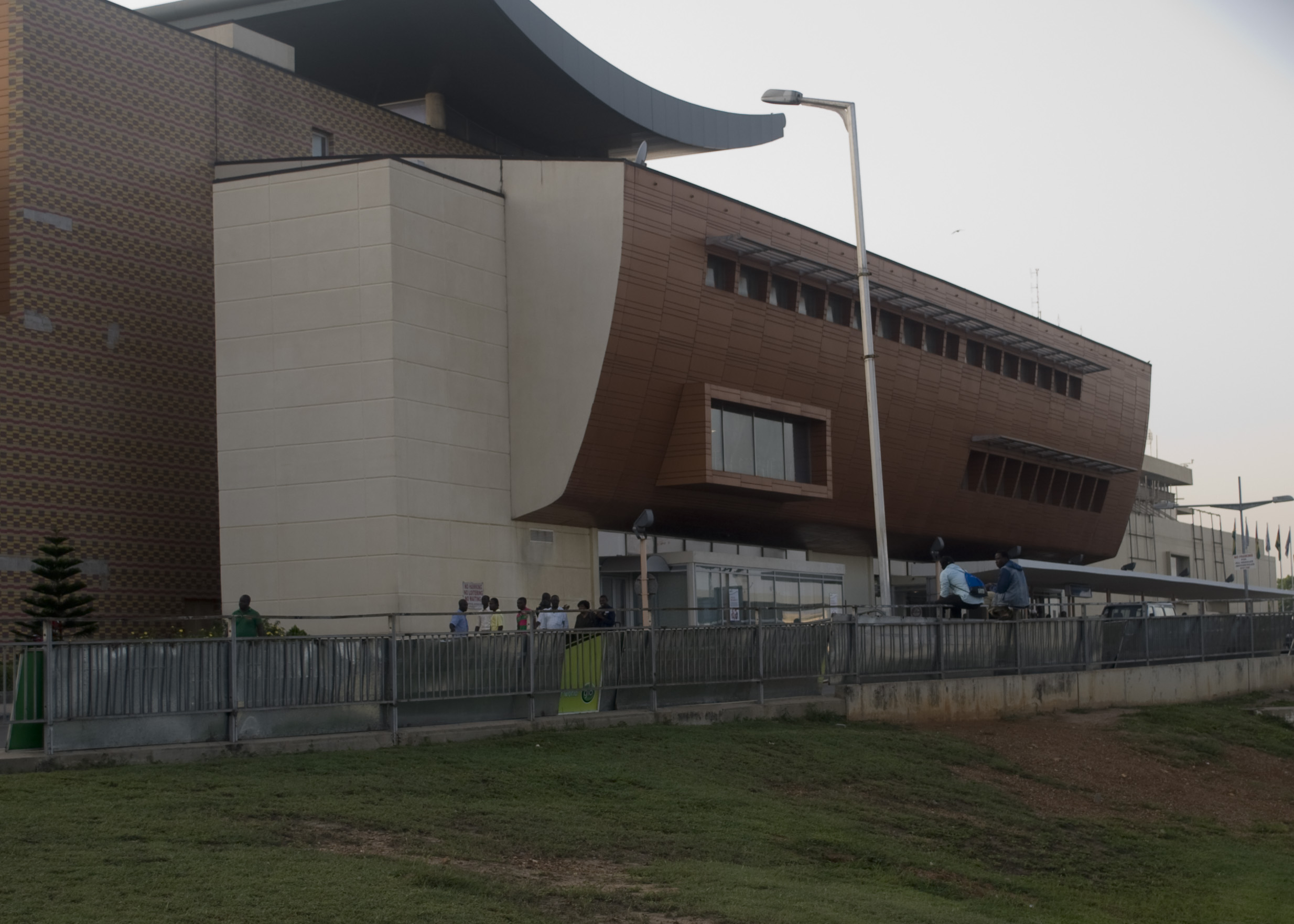 We had a short wait getting as close to the larges fans as possible to keep cool and enjoying a little people watching, seeing everything from oil riggers covered in tattoos to oil executives dressed in smart suites.
We went through the security checks and boarded our small plane for the 35 min city link flight north to Kumasi, Ghana's second city.
Once in-flight we got the chance to see the city from the air, giving a fantastic view of the village structure and nested groups of huts and farms.
We were met at the airport in Kumasi by Nicolas Adjei-Gyan from Kuapa Kooko who took us on our 30 min journey through the busy Kumasi streets passing the impressive Baba Yara stadium to drop off our bags at the REES hotel on Stadium Road and then round the corner to the Kuapa Kokoo co-operative offices.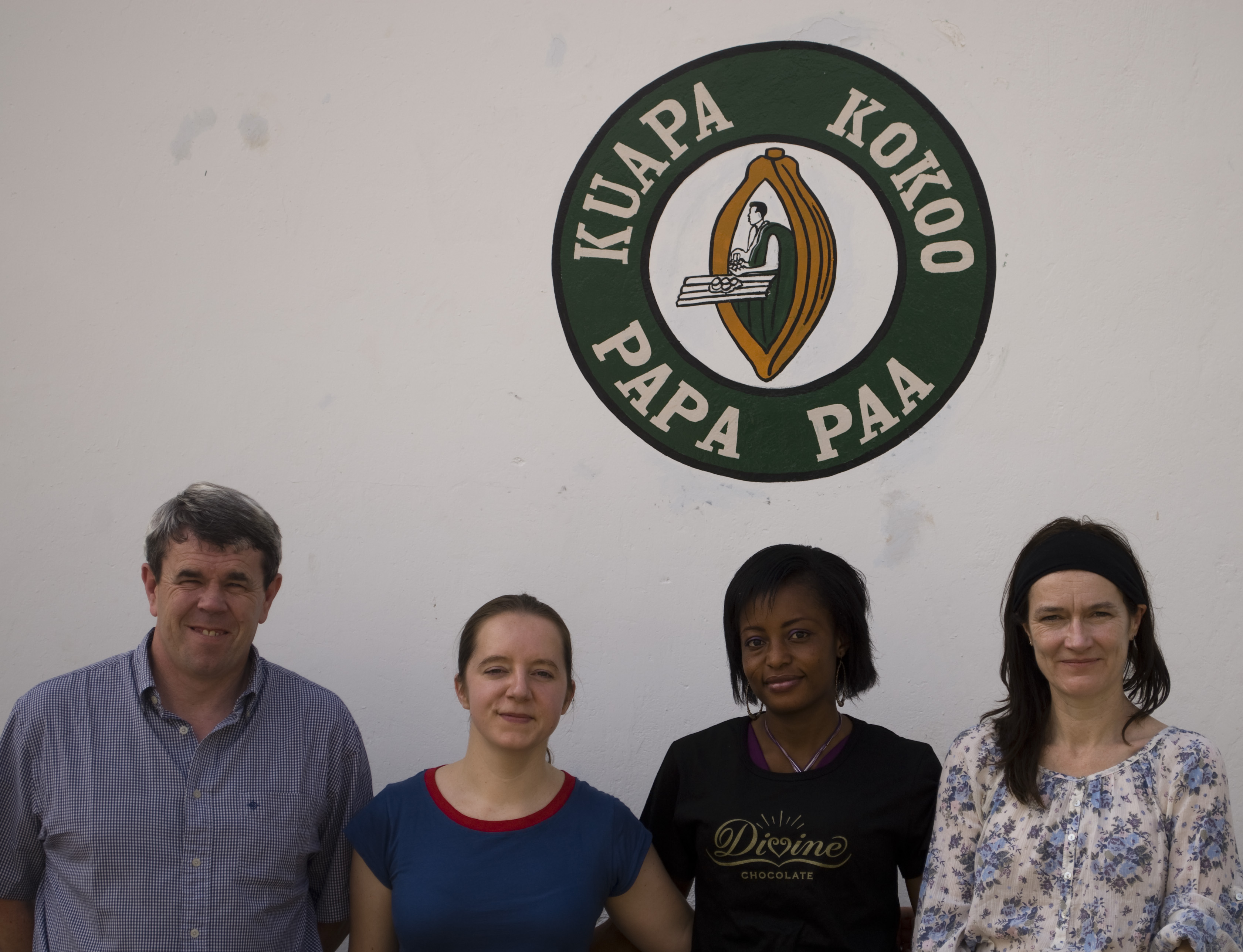 There we were greeted by the whole team: Mr Buah (past president) Madam Christiana Ohene Agyare the then new President, and members of the executive and Nanna Kwaku Bio; there were some familiar faces in Comfort, Erica and Kwabana who i had hosted before when they visited the UK.
After we had introduced ourselves and our reasons for us visiting Kuapa Kokoo co-operative I gave a sensory chocolate tasting session explaining how using all our senses makes a difference the session was tranlated into local dialect too so all could enjoy the six samples of chocolate I had brought with me; they particularly loved the dark and raspberry chocolate. but explained they also use a sensory evaluation when checking cocoa for quality.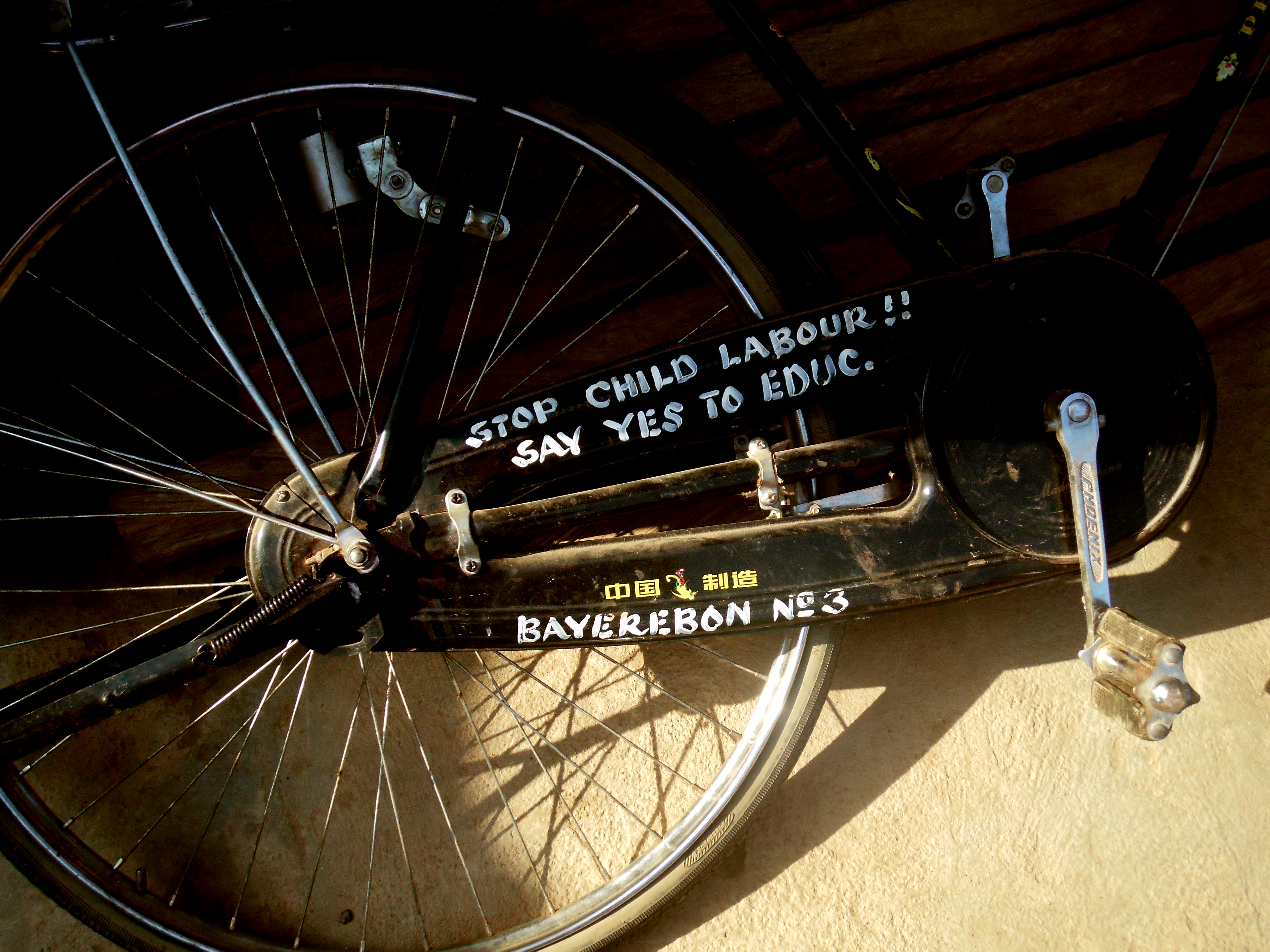 Regiana gave us a presentation about Kuapa Kokoo co-operative explaining the reason the co-operative was set up, its values, aims and structure as well as the details about the new child labour programme that was beening rolled out that month to teach train and protect children in the region.
11am: We all boarded the vehicle and headed out to Beyrebon number 3
Travelling against the flow of traffic that was coming into Ghana's second city, we headed north out of Kumasi, the streets were packed with people selling all manor of things, shops that magically unfolded from crates and parasols at the side of the road or gardens filled with car parts. Men with soldering irons repairing televison sets and radios, spark flying from a streetside blacksmith's workshop. Women carrying large bowls of nuts fruit and bags of water on their heads. Everyone was wearing bright colours, many different European football shirts. Barcelona. AC Milan. Bayern Munich. Chelsea sadly no Leeds united yet!.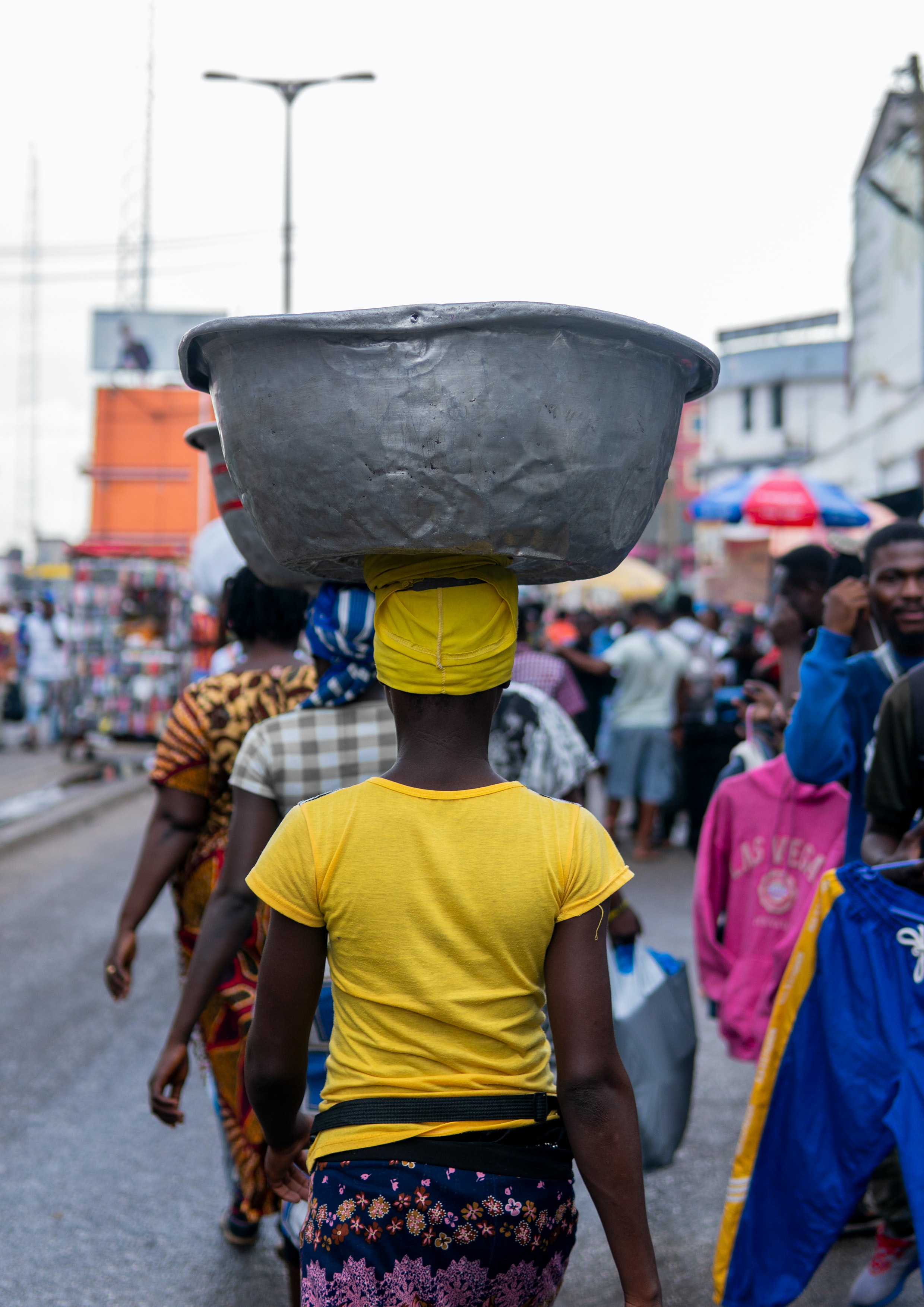 We drove for two hours through trees and shrubs and fields of corn, the road sometimes tarmac other time's just hard red mud. The countryside was beautiful, the smell of burning charcoal occasionally wafting into the car, and fantastic street signs, one butcher's shop had the sign that read: 'IF GOD SAYS YES WHO CAN SAY NO' and one street sign stating: 'NO URINATING HERE BY ORDER'. (this is the polite version and order of who?)
It seems that Vodafone rule here as their logo is everywhere, they have branded entire blocks of flats in the familiar red and white logo, and Coke had branded the toll booth.
We travelled for around 2 hours on the road, dodging potholes, people, animals loaded withe goods, and taxis then we turned off the hard road onto a dirt track for about an hour's travelling through breath-taking countryside villages spotting cocoa farms with drying tables full of cocoa in different stages, palms and cassava.
We eventually arrived at Beyrebon number 3 and the familiar face of Elias Mohammed the society recorder.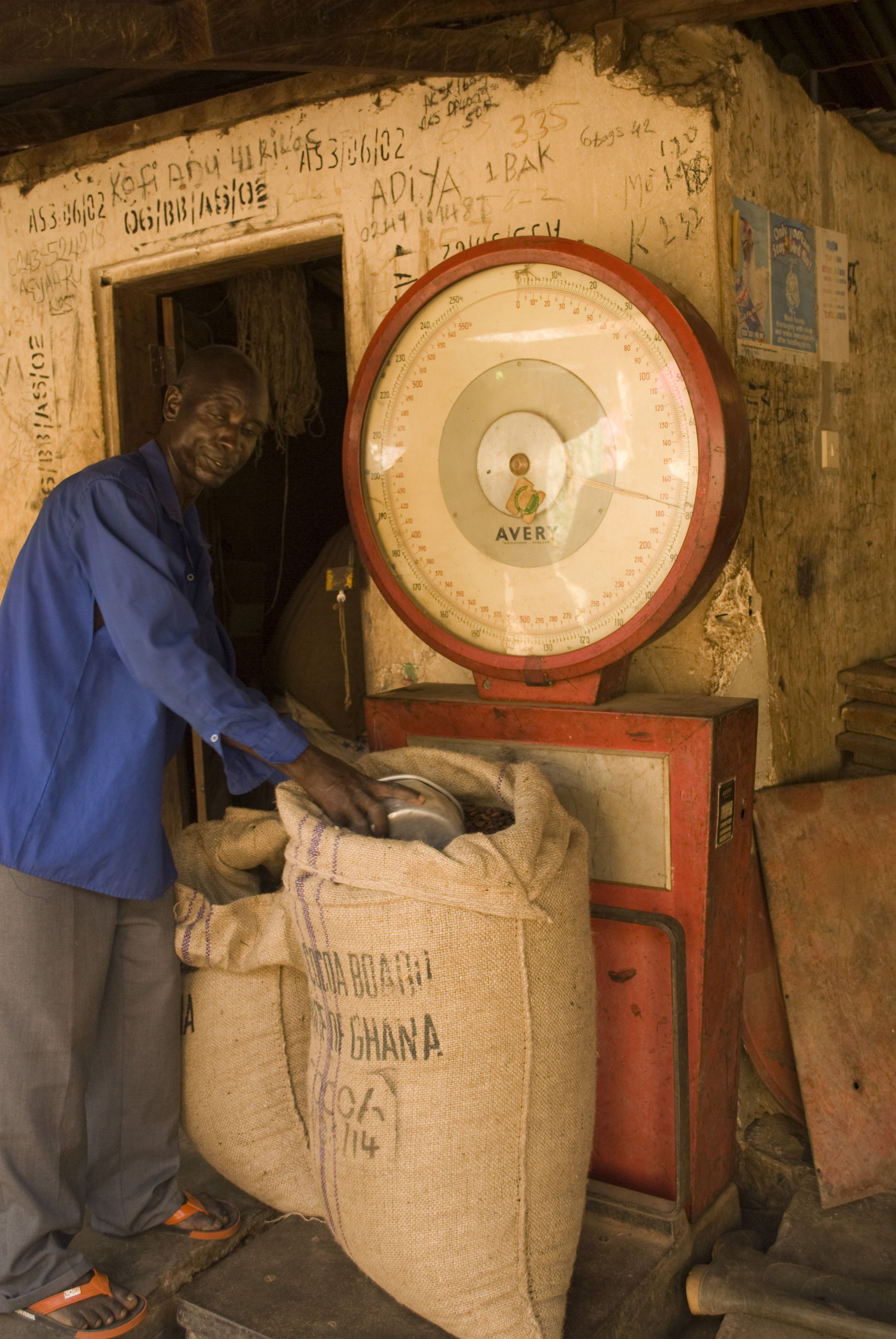 Elias Mohammed is a 52-year-old cocoa farmer, and is a member of the Kuapa Kokoo cooperative living in Bayerebon3.
He has twelve and a half acres of farming land producing about twelve bags of cocoa a year, he has five children and has been able to send them all to the school in the village built with Fairtrade premiums, two have now gone on to senior secondary school.
The whole village came to meet and greet us asking us our reasons for visiting and then explaining what benefits they have enjoyed since becoming members of Kuapa Kokoo co-operative. the president of the village society went on to tell us that the school they have is all down to Kuapa Kokoo co-operative, Anita Rodick and Fairtrade.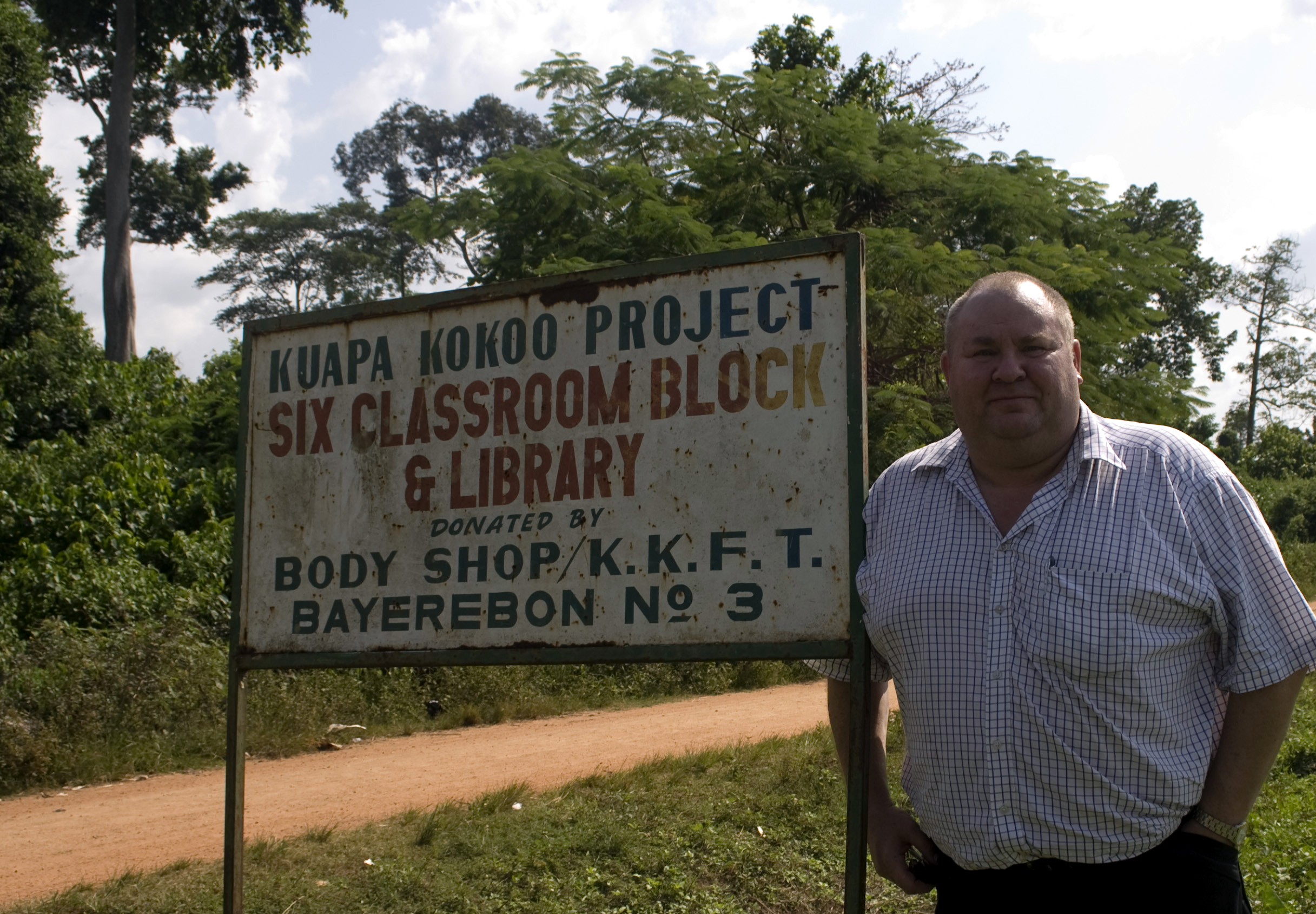 He went on to say the community here is growing, the people who live here are proud to say we live in Beyrebon number 3 the one with the Kuapa Kokoo co-operative school.
We walked for about ten mins in 38 °C sun into the forest and to the farm where we were shown cocoa growing along side of Cocoa yams, palms and plantains. Elias then explained and demonstrated how to care for the farm, by weeding pruning and harvesting;
The farm – of about 12 acres – produces up to 10-12 bags of beans a year, worth about £200, which is a good wage in Ghana.
The best thing about the beans being fairtrade is that aswell as the farmers' money, each bag earns the community some extra money, the school we had just visited had been paid for through the Fairtrade premium.
Elias knows to produce good quality cocoa the farmers need to make sure that it is well fermented and well dried, two processed that take about ten days. And because each bag of cocoa for Divine Chocolate can be traced back to the village of origin, the Elias is very particular about the cocoa they buy from the individual Kuapa farmers he told us he often helps the farmers prepare their cocoa to ensure that the cocoa in Divine is pa pa paa! – The best of the best!
Another person I felt I already knew was 14 years old Jennifer Oforiwaa Kusi Jennifer lives in Beyrebon 3 village, her father is a cocoa farmer and a member of the Kuapa Kokoo, and her mother runs a shop selling basic food stuffs such as rice. Jennifer knows a bit about the role Fairtrade plays in her community she has visited the UK several times to help with fairtrade schools events.
"Fairtrade supports Kuapa," she says. "Fairtrade means my father gets a cash bonus, and I got to go on one of the kids camps that Kuapa Kokoo organises for children of cocoa farmers."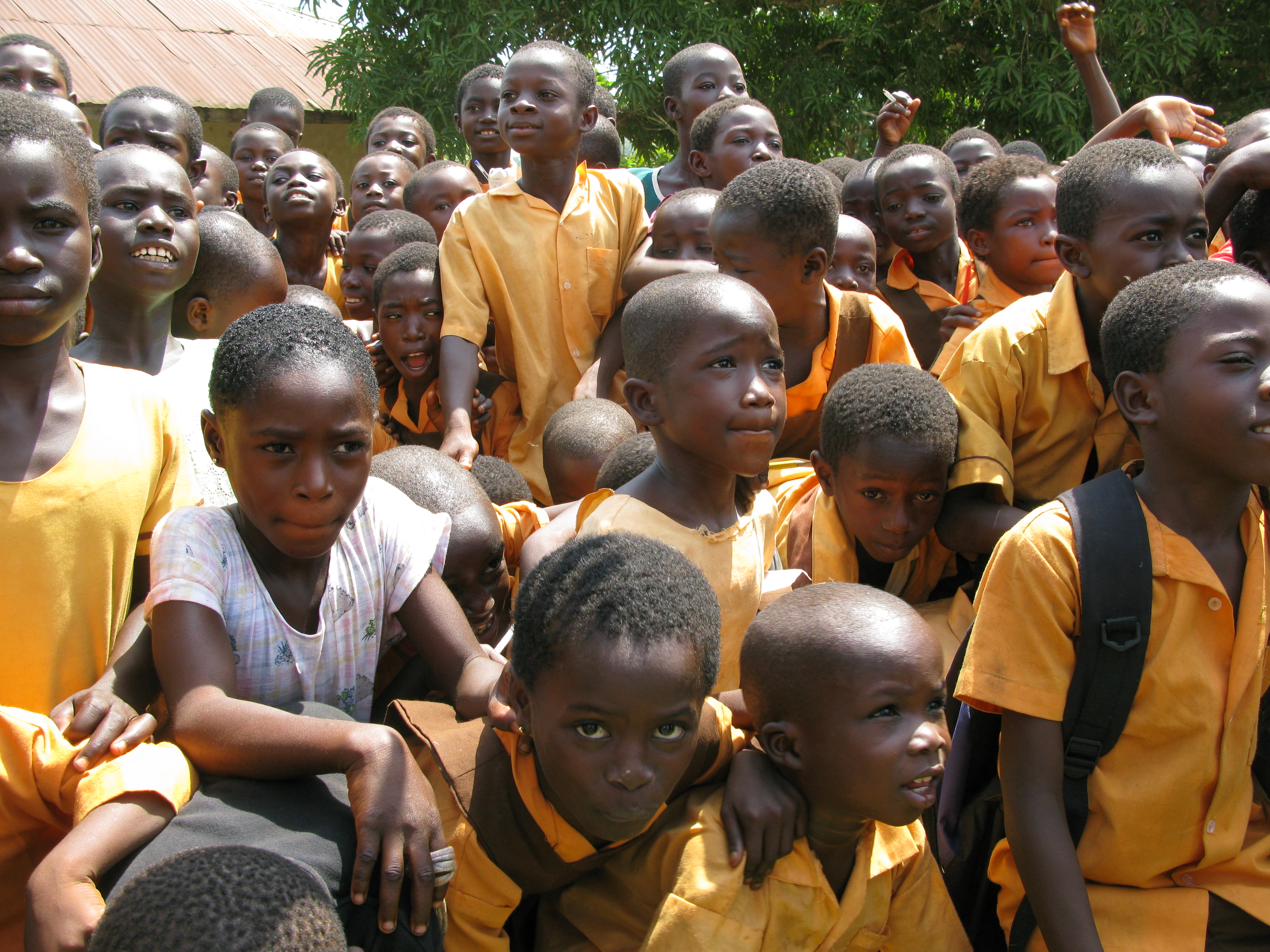 We meet the headmaster and some pupils who told us the impact that Fairtrade was making in their lives, he explained to us that the teachers are paid extra by Kuapa Kokoo co-operative to offer additional help to students in subjects where they need it also they provide some adult education too.
The children asked me what football team do you support. I live near Leeds so its Leeds United, I said, No one had heard of them.
Who is your favourite player? I told them that my favourite Ghanaian who played for Leeds united was Tony Yeboah, They all knew Yeboah.
What is your wife called?
How old is your son?
We left chocolate bars for all the students, some school books and a new leather football with a pump. Following this we went back to the village and shared some chocolate.
Then it was back to Rees hotel in the dark, a quick wash and a drink at the bar before dinner, we didnt go out, we were the only people in the restaurant that had a Chinese themed menu – 2 veggi meals and 2 meat dishes that took a little while to arrive but was good.
Day three
Awaham society, Juaben depot, Bonwire Kente village I am writing this sat by the hotel pool it's 7 am and the sun is shining ;the rest of the group are still in bed, breakfast isn't till 8 am it's a great way to start the day.
Back into the restaurant to a breakfast that consisted of toast, an omelette and tea or coffee - so that's 4 toast and omelettes please!
We walked round to the Kuapa Kokoo co-operative office and set off for our next community visit, after about 1.5 hours driving we turned off onto a red dusty track, we waved to passing people who carried all sorts of things to and from the fields to the market, small houses with drying mats outside covered in cocoa.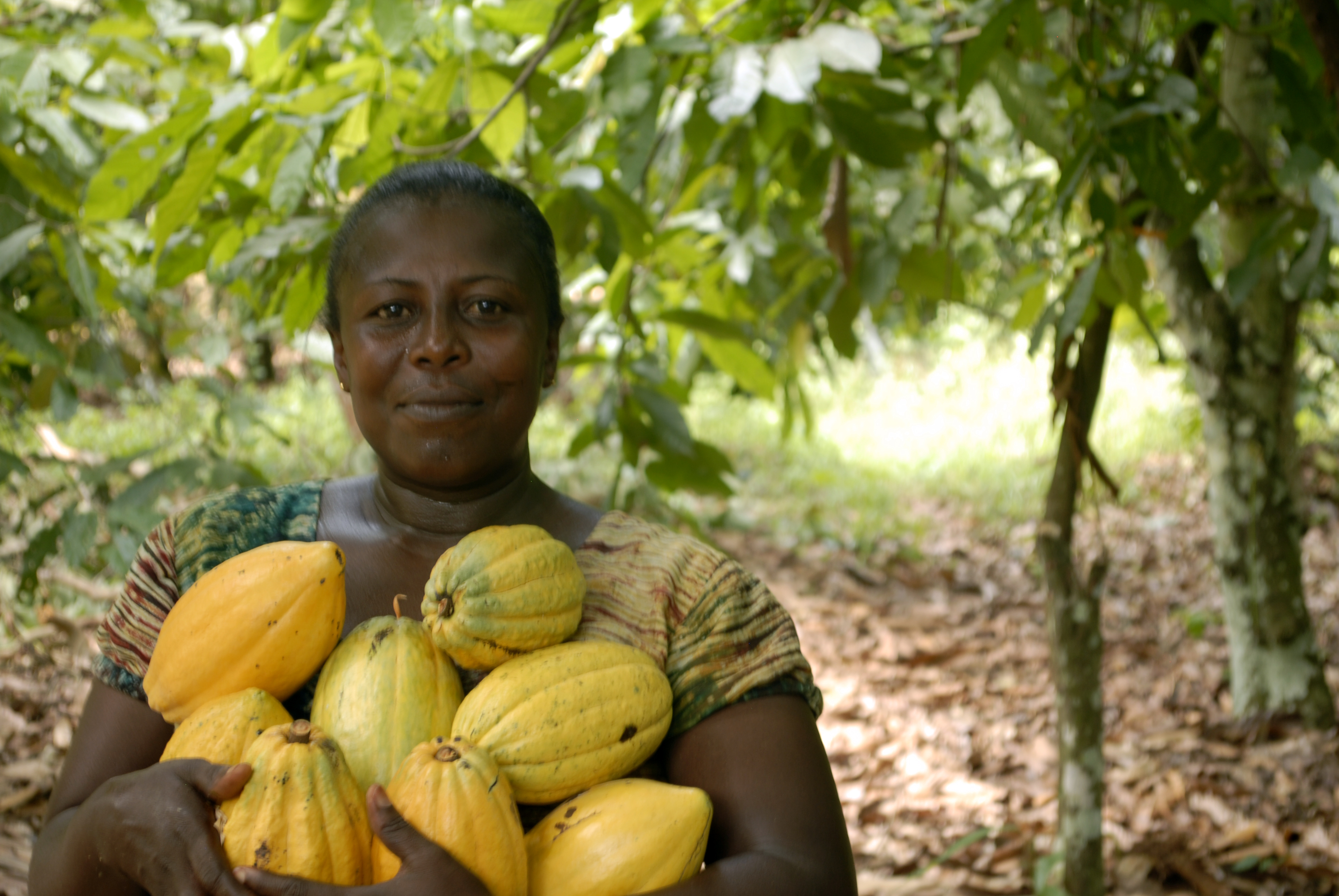 We arrived at Awaham Kuapa Kokoo co-operative society which is a 25-minute drive from effiduase in the Ashanti region, to be greeted by Juliet Brago is 45 years old, a mother of two and has been a cocoa farmer for 14 years. She joined Kuapa Kokoo, the co-operative of cocoa farmers 2002 and has her own 10 acre cocoa farm.
Juliet was the secretary of the society and along with some of the other executive members, explained that the women of the community wanted to have a corn crushing mill to take some of the back-breaking work out of preparing cornmeal. (Fufu is a dough-like food its a staple in most Ghanains diet) the nearest mill was 2 miles away, so they made a request Kuapa Kokoo Farmers Trust (KKFT), and were successful.
The corn mill project was commissioned on Thursday, July 15 2010 at an estimated cost of GH¢ 5,900.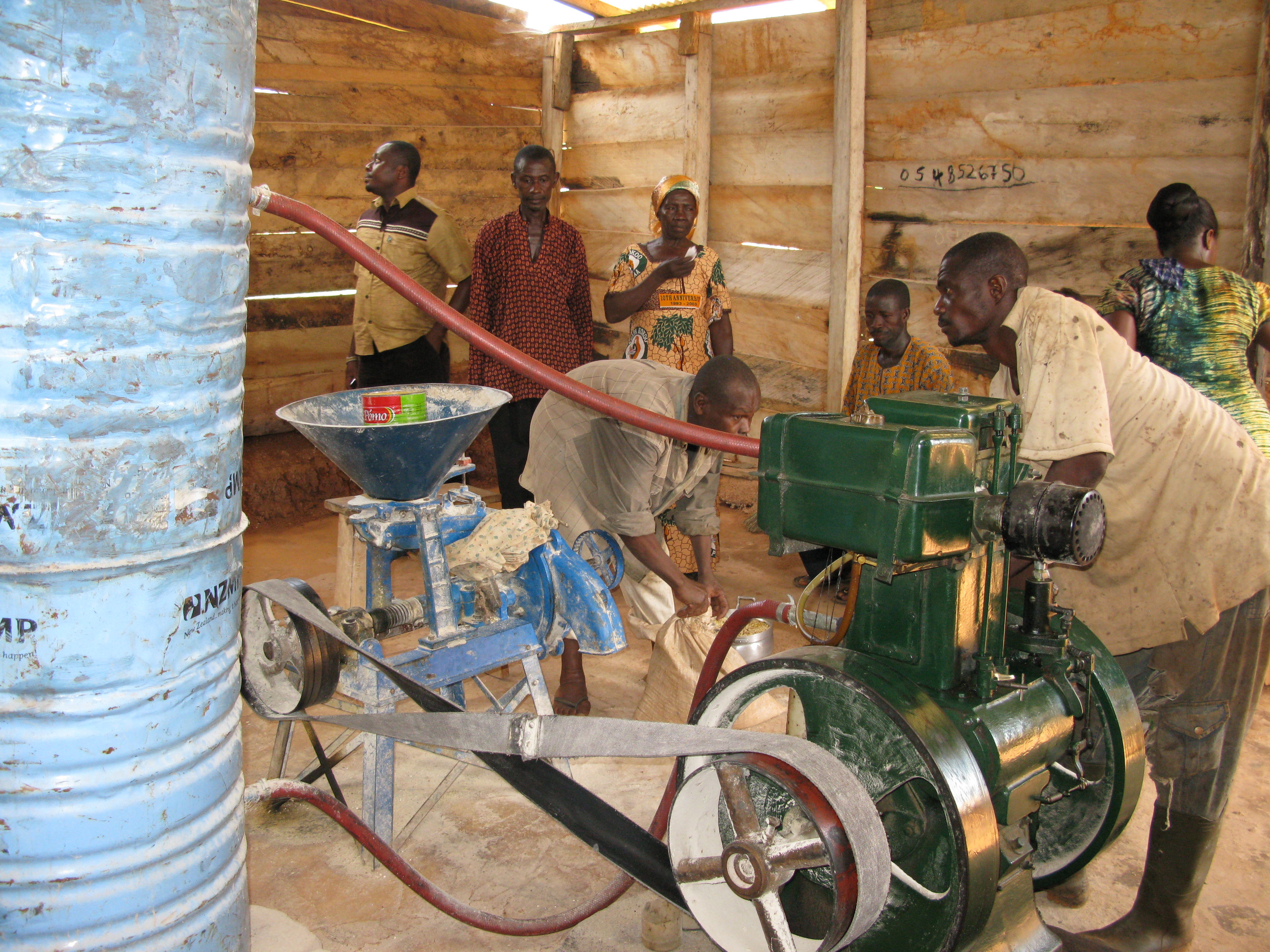 I asked if it was important to the members that they own a chocolate company themselves she replied by saying: 'it makes us all very proud to supply the best cocoa for the best chocolate and because we own it, we get more of the profits which helps the whole village'.
Again after stating our reasons for wanting to visit we shared some chocolate and went to visit the school leaving behind a football and some more chocolate.
Juliet then took us to see her cocoa farm About a ten 15 minute walk from the village in 40 degree heat Juliet usually goes to the farm at 7:30 am and comes back around 3:30 pm often eating there.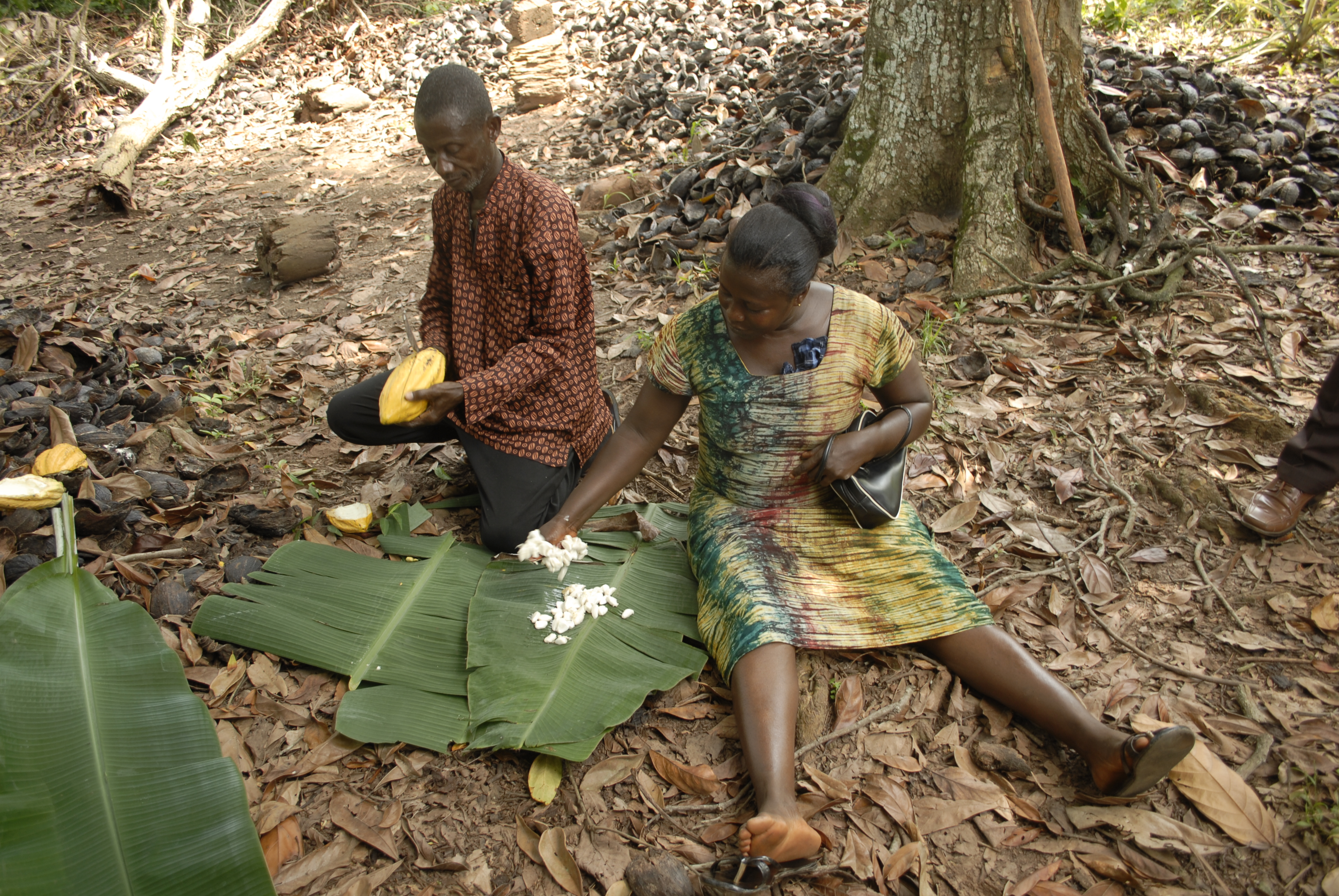 Juliet demonstrates how to harvest cocoa her husband starts using the machete and a long stick with a hook in the end ( a go to hell) to cut down the cocoa pod from the trees.
The cocoa pods grow directly from the trunk of the tree or hangs from the branches.
next Juliet opens the cocoa pods, takes out the cocoa beans and places them on a bed of banana leaves covers them with more banana leaves to ferment for at least five days, before it can be sun dried.
Then we walk back to Awaham, to see the drying process where mats are laid on tables outside and the beans are spread out to be sun dried for 7 days ready to be taken to the depot.
Kuapa Kokoo co-operative society Juaben depot
We had lunch with Wiafe Akenten the regional depot manager waif explained collection and shipping point all the societies send the cocoa for QA testing and onward shipping the day we were there the government inspectors were checking quality and moisture levels and tagging sacks for approval to ship to the port.
The first step was to check the moisture content of the cocoa in each sack. Every sack has been given a number that indicate the village of origin and can be traced, the moisture is checked with an instrument called aqua-boy ideally 6-8%.
The next step is to take cocoa samples from four sides of each bag to make sure the cocoa in the bag is uniformly mixed in terms of colour and size. He then mixes all the sampled cocoa beans and takes a smaller sample that he cuts open and checks for mouldy beans or beans that have germinated or in some cases have not been fermented long enough which results in a different colour. He will reject or place a government lead seal on the cocoa sack and it will then be shipped to Tema port.
To produce good quality cocoa (papapa) the farmers need to make sure that it is well fermented and well dried, a process that takes at least twelve days, and because each bag of cocoa for can be traced back to the village of origin, the recorders of each village are very particular about the quality cocoa they buy from the individual Kuapa farmer, which ensures that the cocoa is pa pa paa! – The best of the best!
Bonwire Kente village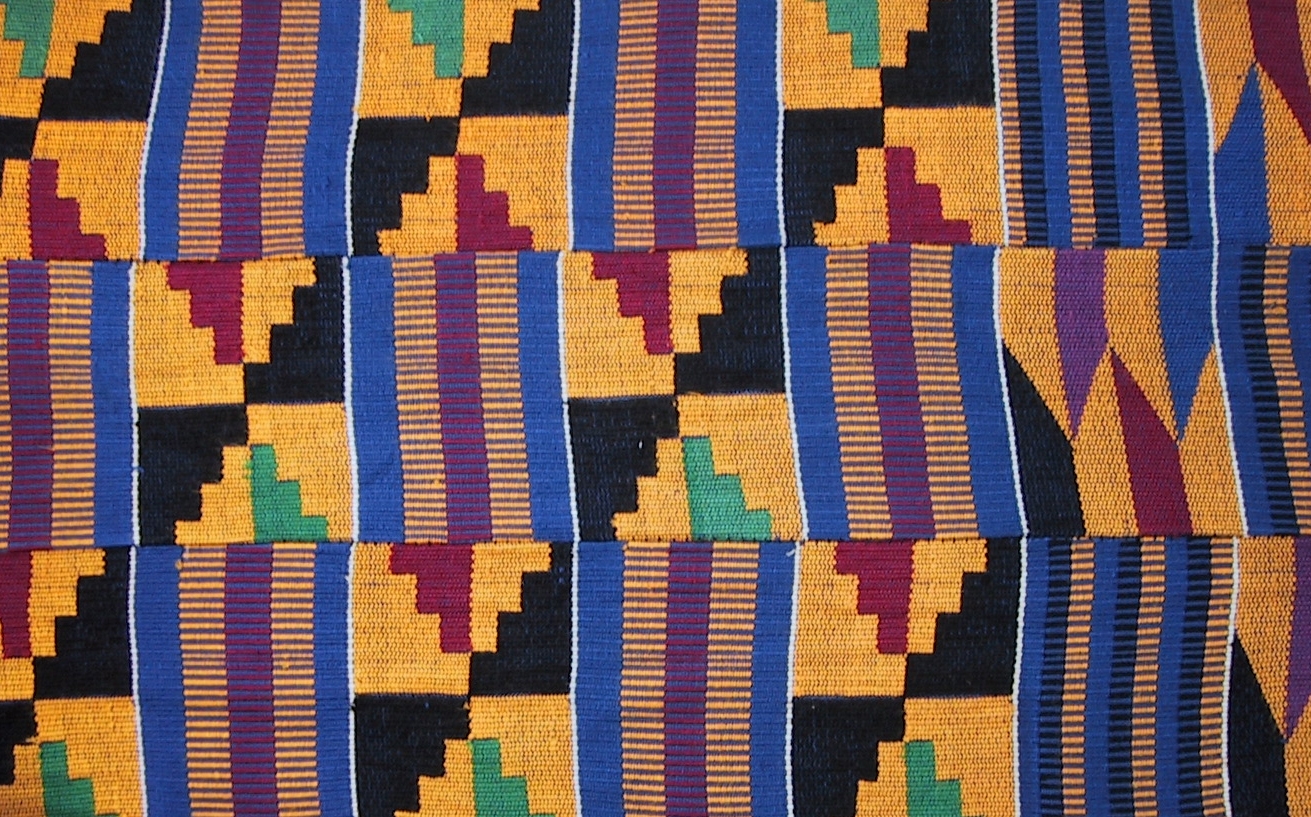 Last stop today a cultural shopping break where we saw the skilful waving of Kente cloth Kente cloth" is a royal and sacred cloth worn only in times of extreme importance. Kente was the cloth of kings. Over time, the use of Kente became more widespread, however it is held in high esteem in the Akan family and the entire country of Ghana. In Ghana, kente is made by the Akan people (including the Asante, Fante and Nzema). Kente is also produced by Akan groups in Cote d'Ivoire, like the Baoule and Anyin, who trace their ancestry back to Ghana before the rise of the Ashanti Empire. It is the best known of all African textiles. Kente comes from the word kenten, which means "basket." The Asante peoples refer to kente as Nwentoma or "woven cloth".
Some of the cloth had taken 2 years to weave and cost 600 cedi but scarves were only 15 cedi young boys would ask what your name is? While they were talking with you would weave your name on a bracelet very skilful and quick. Then say here I have one for you no prices just give me what your heart says.
Lake Bosomtwe Saturday 27th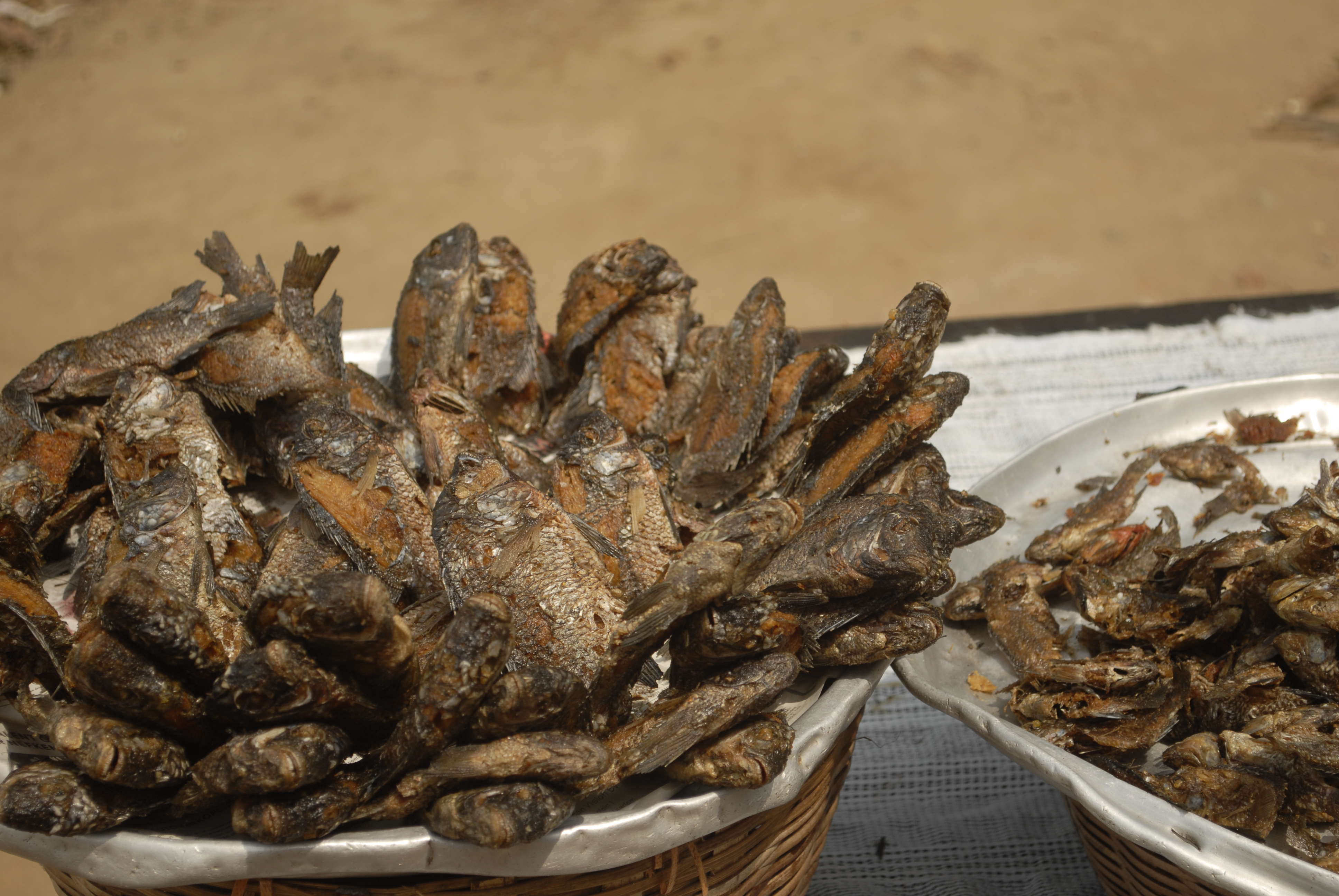 Last day we all had breakfast and packed our cases Comforts son Gordon collected us for a trip to see beautiful Lake Bosomtwe, 35km south of Kumasi in the Ashanti region of Ghana, in the town of Abono. Lake Bosomtwe is the largest natural lake in Ghana. The lake, is encircled by rugged mountains thickly vegetated, reaching an altitude of more than 600 metres. We had a briefing in the visitor centre we were told one theory is that the huge meteorite formed the lake. Another says that it is the crater of an extinct volcano.
Lake Bosumtwi's crater is 10.5 kilometres in diameter and is slightly larger than the present lake, It is estimated to be 1.07 million years old The lake is cared for by the 24 local villages that surround the lake, with a population of about 70,000 people they fish for tilapia that is then deep fried and sold on the shores.
The Ashanti people consider Bosumtwi to be a sacred lake, according to belief, the souls of the dead come to the Lake Bosumtwi to bid farewell to the God Twi, and because of this, it is considered permissible to fish in Lake Bosumtwi but only from wooden planks.
Central Kumasi sight seeing
Kumasi is the capital city of the Ashanti region, and historical centre for Ghana, we visited the Manhyia Palace, the seat of the King of Ashanti and members of the royal family in the northern part of the city. The Palace has a courtyard and a courtroom where matters dealing with the constitution and customs are deliberated upon the traditional council.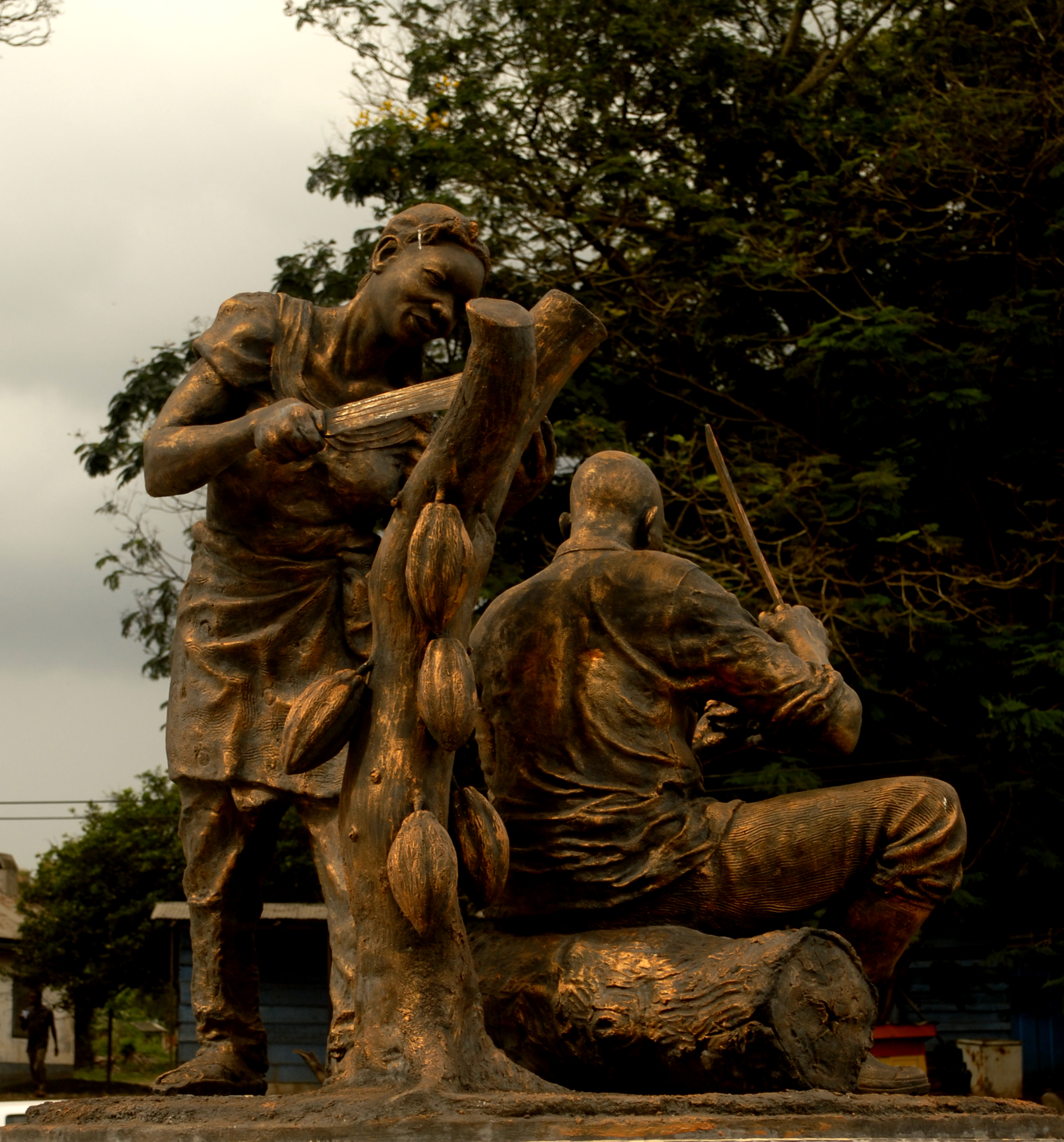 We also saw the monument Kuapa Kokoo co-operative society have commissioned to commemorate
the significant role cocoa farmers have played in the social and economic history of Ghana. Most people in Ghana have cocoa farmers to thank for their education as cocoa has been such a significant income generator over the last century. The statue is on a roundabout in central Kumasi the Sculptor was Samuel Tachie-Appiah Kumasi, Ghana's second largest city and home to the largest market in West Africa we were short on time so we had a ride around central market A trip the market in Africa is like doing your Christmas shopping in a mega mall with only second hand car
salesmen and a jumble sale all together.
The crowds are endless and the salesmen are at times aggressive. Stall after stall are lined next to each other for miles in every direction 12 hectares in all