The History of Tarte Tatin
Having visited a friend of mine recently who had an abundence of apples he asked me "What can we do with all these apples?"
I suggested the obvious Toffee apples, cidre, apple cider vinegar, apple pie, apple sauce, but being old, my favourite thing to do with apples is the classic Tarte Tatin (tart tah-TAN,) that famous French apple upside-down cake that's made by covering the bottom of a shallow baking dish with butter and sugar, then apples, topping with a puff pastry crust, and baking in a hot oven, during which the sugar and butter create a amazing dark caramel sauce that becomes the topping when the tart is turned over onto the serving plate.
There is only one rule for eating Tarte Tatin, which is it must be served hot, so the ice cream melts on contact.
Like most food tales, there is more than one version on the history of the tarte tatin, but this is my favourite one.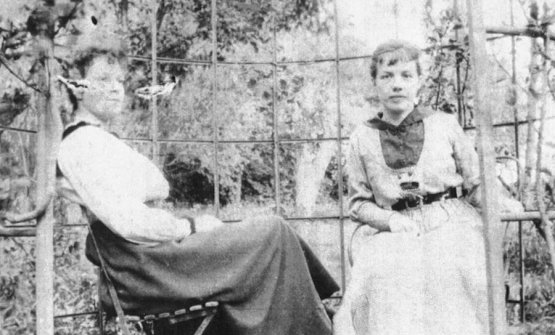 In 1888, two French sisters, Caroline and Stéphanie Tatin, owned ran the l'Hotel Tatin in Lamotte-Beuvron, in the Loire Valley of France.
The elder sister Stéphanie (aka Fanny), whose specialty was an apple tart, served perfectly crusty, caramelised and melted in the mouth, one day during the hunting season, at the height of the midday rush, accidently placed some of her tarts in the oven upside down.
The pastry and apples were upside-down but, nevertheless, she served this strange dessert without giving it time to cool.
The French call this dessert tarte des demoiselles Tatin (the tart of two unmarried women named Tatin).
This dessert gained its popularity when famed Maxim's Restaurant of Paris, France put it on their menu.
One of the legends has it that Louis Vaudable, the owner of Maxim's, once tasted it and was smitten. As he described it: "I used to hunt around Lamotte-Beuvron in my youth and had discovered, in a very small hotel run by elderly ladies, a marvelous dessert listed on the menu under tarte solognote; I questioned the kitchen staff about its recipe, but was sternly rebuffed. Undaunted, I got myself hired as a gardener, but three days later, I was fired when it became clear that I could hardly plant a cabbage; however this was long enough to pierce the secrets of the kitchen. I brought the recipe back and put it on my menu under 'tarte des demoiselles Tatin'."[5]
In reality, Vaudable was born in 1902, the sisters retired in 1906, and died in 1911 and 1917 whereas Maxim's was purchased by the Vaudable family in 1932, so maybe this is'nt quite the way it happened but who care, we now have a lovely dessert.
If you would like to try this classic, click here