Beer and chocolate a match made in heaven
Have you ever thought about pairing beer and chocolate? Want to know more about it?
Here are some things I learned from Cheryl Cade beer sommelier at The Thirst Consultants (yes real job who knew) when we sat down with a group of chocolaholics to pair 16 chocolates and 6 beers at Brew Dog in Norwich.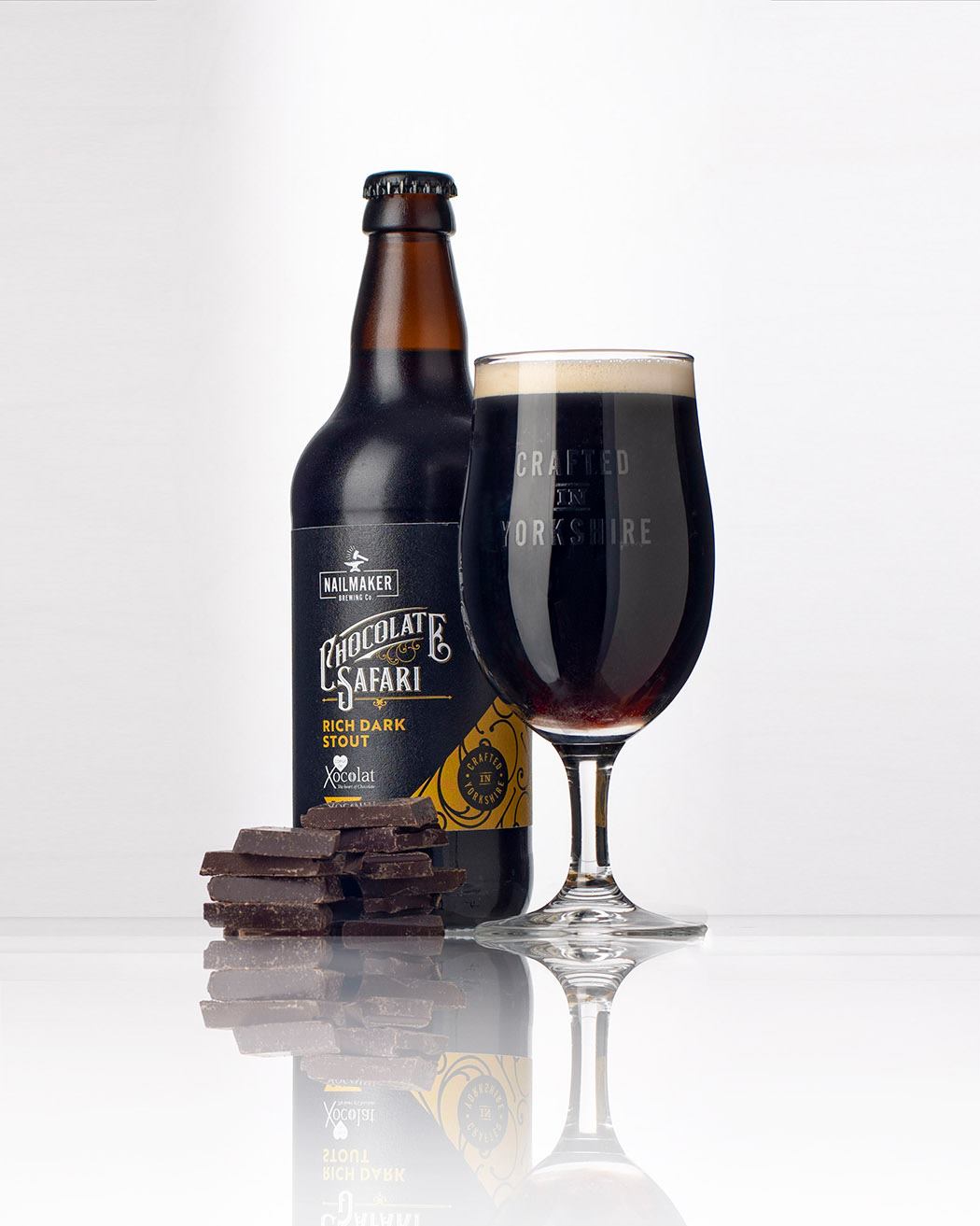 Fine chocolate is like fine wine, with subtle flavours and aromas that make enjoying them a multi-sensory journey and with the recent explosion in craft beers and craft chocolate these two pleasures can now enjoyed together. Pairing beer and chocolate isn't really a new idea, but what Cheryl and I discovered is that Chocolate and beer are both are very versatile foods. Each on its own can complement a wide range of flavours and characters, resulting in endless opportunities for interesting matches right across the flavour spectrum and recipe ideas for the chef.
The Basics of Pairing
Whether it's wine and cheese or beer and chocolate, the aim is to find two things that taste good together and highlight different aspects of each other.
That can be easier with wine, because we have been doing it longer and we can find lots to read about wine.
Chocolate's 1500 and wine's 500 aromas includes elements (floral notes, wood notes, fruit notes, etc.), making them harder to pair.
Beer tends to feature a smaller number of stronger flavours so fewer tastes to worry about whereas chocolate is quite often a complex blend of subtle diverse flavours.
How to Taste Beer and Chocolate Together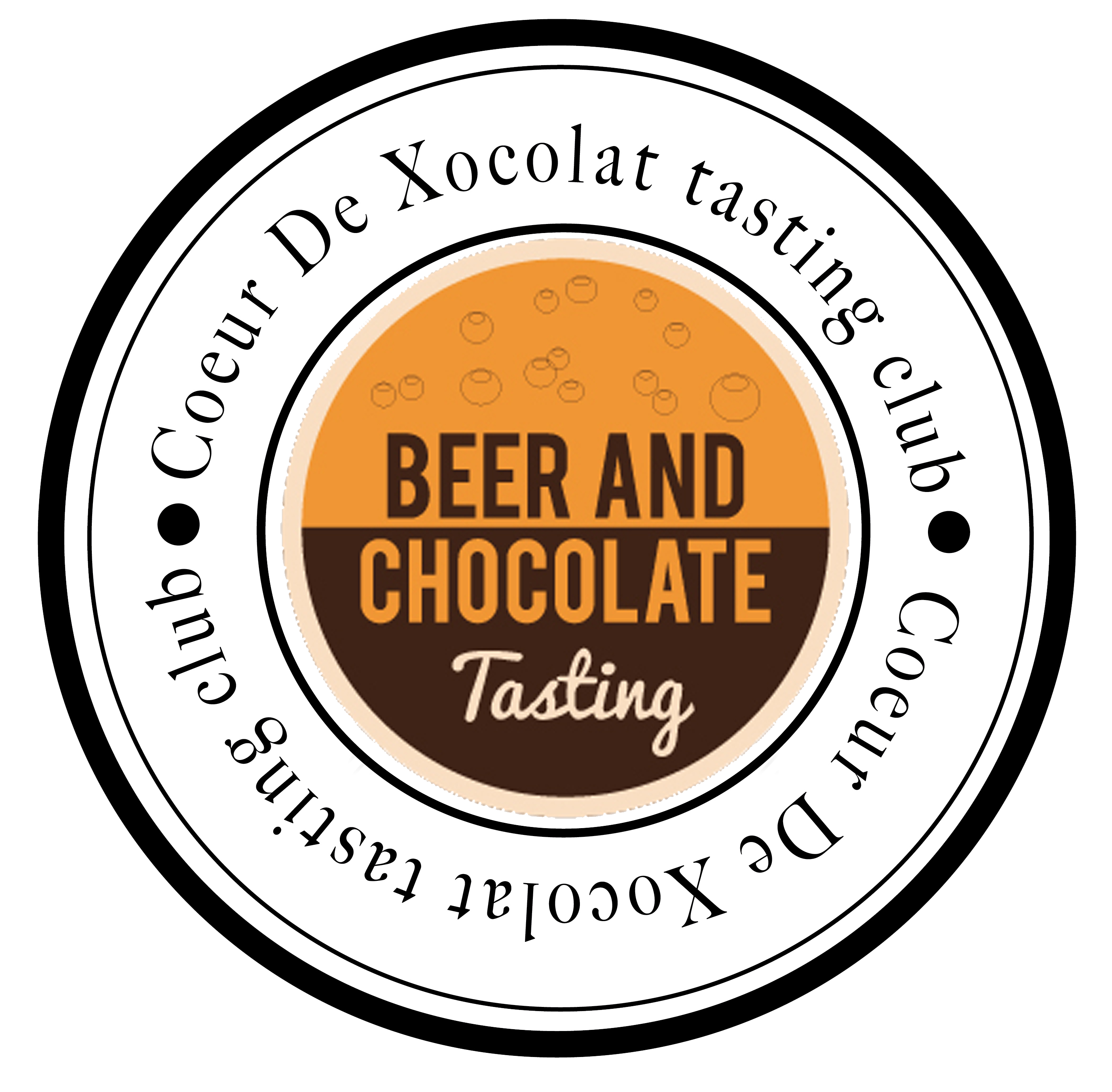 In order to taste chocolate and beer together we need to first remember our sensory analysis for both items, so, taste both individually to familiarise your palate with the aromas each contain.
But We Have a Couple of Problems:
One: chocolate and water dont mix, the chocolate seizes and the texture becomes chunky and cold liquids also affect the texture of chocolate in a bad way.
Two: Often beers should be served at the ideal temperature which is too cold to make pairing them with chocolate easy the cold makes our taste buds contract.
To taste chocolate and beer together enjoyably have to be solve these problems .
Heres how I do this, place a piece of chocolate in my mouth and chew it until it has melted completely, working the chocolate with my tongue to incorporate some saliva from my mouth.
The idea is to mix in enough warm liquid so that adding cold liquid -beer won't be such a shock to the chocolate and cause it to seize.
When the chocolate has a thin consistency, I take a sip of beer- about the same amount of beer as the amount of chocolate in my mouth.
Mix the beer and the chocolate together in my mouth by gently swishing, paying attention to the taste and texture sensations in my mouth before swallowing the beer and the chocolate.
Wait at least 10 seconds after swallowing the chocolate and beer before taking a small sip of beer to rinse any leftover chocolate from your mouth.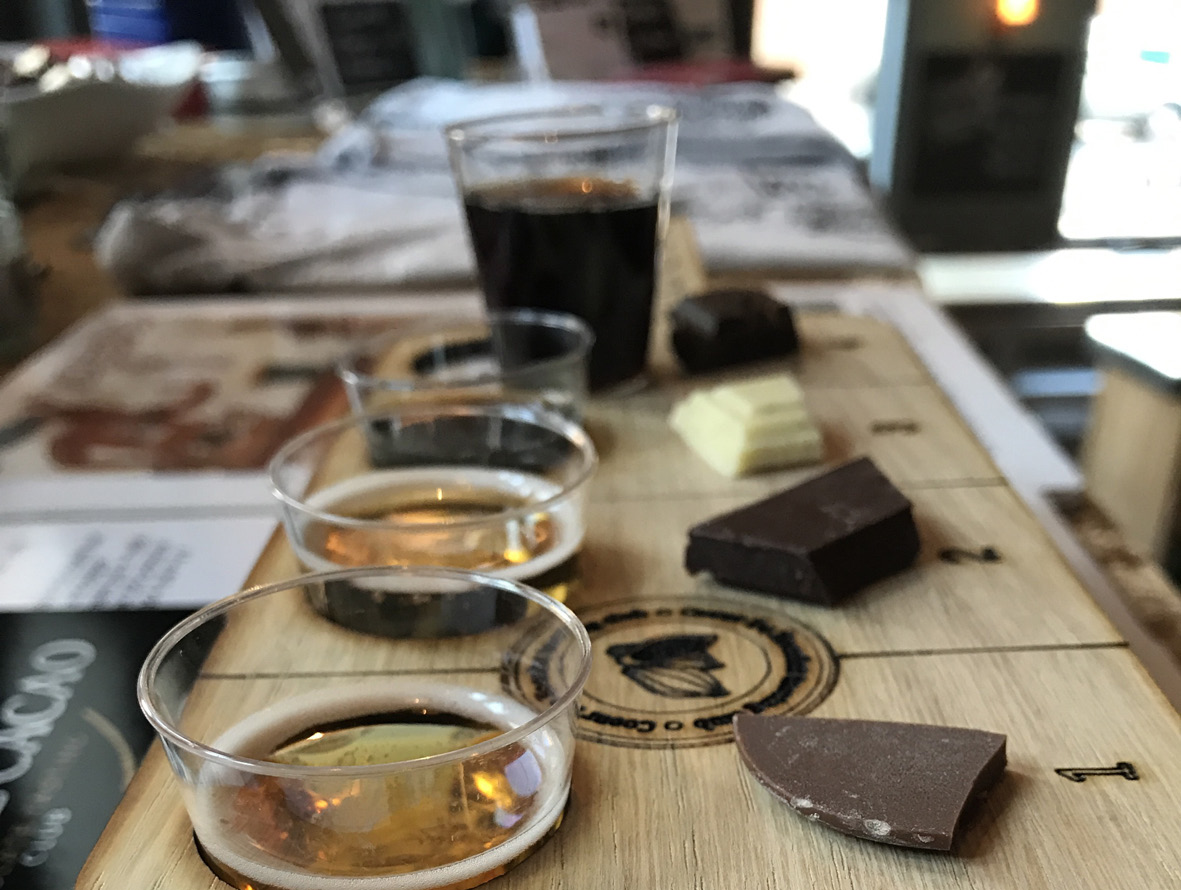 Pair Inexpensive With Inexpensive
It can be difficult to pair chocolate with many mass-produced beers. Most American beer has a high sodium content and a diffuse flavour that doesn't always mix well with others. When pairing with American beer, go with inexpensive chocolates. The saltiness of the beer can cut through the richness of the chocolate a bit but works well, as we know with salted caramel chocolate, loves salt.
Pairing With Dark Beers – i.e. Porters and Stouts
Made from malted barley that's been roasted to give deep hues giving lots of stouts a chocolate or espresso notes in their flavour, which is perfect for chocolate pairing – coffee, toasted, nutty, caramel, toffee notes, all can be found in chocolate. Chocolates with a higher percentage of cacao pair well with stout, which in turn will make them darker and bitterer. The bitterness of the chocolate should bring out inherent sugars in the beer.
Pairing With Bitter Ales
Bitter ales include brews like IPAs, can have bitter notes. If you mix bitter chocolate with bitter beer it can become overwhelming. Choose a 50 to 70 percent chocolate.
There will be more sweetness in the chocolate, which should, offset the natural bitterness in the beer, and allow the chocolate to stand up to the beer's flavour.
Pairing With Lagers
Pairing with lagers, pilsners and bocks, is a matter of personal taste or finding specific notes in one specific beer. This means, sadly, you're going to have to drink more beer to find the perfect pairing. Some people are going to want a darker chocolate to go with their lager, while others want something sweeter. For the most part, about 50 percent cacao chocolates are going to be the best choice.
Pairing With White Ales
sometimes called unfiltered wheat, these are light, crispy and refreshing. White ales can have citrus undertones and an slight acidic finish. When pairing chocolate with white ale, try to avoid highly acidic beer since acid and chocolate aren't good friends. If you can find a less sharp beer, look for chocolate with citrus notes or that has been blended with orange peel as a starting point.
Fruit Beers
Belgian fruit Lambic, etc. If you are a fan of the intermingling of tart and sweet, than a bubbly and crisp framboise (raspberry) or kriek (cherry) Lambic paired with a molten chocolate cake or even a gooey chocolate covered cherry should hit your spot. The choice of chocolate are easy to make fruit with fruit.
Weizens
German wheat beer and Belgian saison's and strong ales (dubbel, tripel) These beers carry aromas of banana and cloves apple, apricots and peaches seasoned with cinnamon and nutmeg. A rich 38% milk chocolate should carry these flavours.
Fancy organing your own tasting for friends or as a fundraiser Look here
Try some of my recipes using beer and chocolate