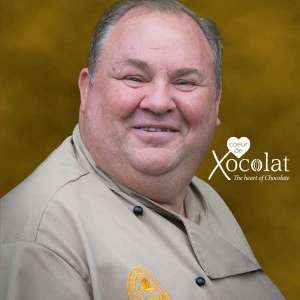 Introducing David Greenwood-Haigh Fih
David is an award-winning chocolatier with over forty years' experience in the food industry as a Master Chef member of the Craft Guild of Chefs and sales manager for various blue-chip food businesses.
David's Food Adventure began as a young chef in Yorkshire working in large hotels and learning his trade. He quickly progressed through the ranks and transitioned into multiple sales roles for some of the world's largest food companies such as Unilever, Campbell's and CPC.
David's passion for chocolate was born from his last employed position for Divine Chocolate, which is where his Food Adventure started to pick up pace. It was here that David focussed his enthusiasm for food on ethically sourced, fantastic quality chocolate. This role afforded David some career changing opportunities to work directly with Cocoa Farmers in Ghana to understand the subtle nuances of cocoa production.
In 2011 David setup Coeur de Xocolat to embody the skills and passions he has harboured throughout his career in food. The business specialises in chocolate events, consultation and demonstration which allows David to share his knowledge and experiences with chocolate by putting his unique twist on the chocolate world. His work as Coeur de Xocolat has seen him providing corporate team building days for big businesses like Deloitte and Danone, demonstrate his wares to over 50,000 people, reach 25M people in television appearances and train a host of professional chocolatiers. David has built an impressive list of accolades since he started on his own to include being a judge for the Great Taste 2015 Awards, the International Chocolate Awards 2015 and a Fellow at the Institute of Hospitality.
David's Food Adventure made another turn in early 2015 when he decided to develop a retail range of products based on his knowledge of the market and the potential held in chocolate. The result was a range of seven premium chocolate bars and three jams with a chocolate-twist; David's hard work was rewarded with a Great Taste Gold Award this year for his Raspberry Jam with 70% Arauca Dark Chocolate Product.
The Coeur de Xocolat Adventure is only just starting and David plans to put his enthusiasm for chocolate and fine food in front of more people as he educates and builds his chocolate empire.